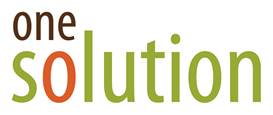 SILVER SPRING, MD / SEPTEMBER 23, 2014 – One Solution, the creative and branded entertainment arm of Radio One, has entered into a new partnership with the National Urban League in support of the organization's Put Our Children 1st education initiative.
As a heated national debate has emerged around Common Core State Standards, which establish clear, consistent guidelines for what every student should know and be able to do in Math and English Language Arts from kindergarten through 12th grade, the National Urban League is putting a stake in the ground to encourage the African-American community to fight for equitable implementation of these educational standards in public schools across the nation.  By raising standards for everyone, Common Core can help bridge the education achievement gap and create a new reality in which all students are adequately prepared to excel regardless of family income, ethnicity or where they live.
"Given the disturbing levels of distortion and political ping-pong that have infiltrated the discussion around Common Core State Standards, the mission of Put Our Children 1st: Common Core for Common Goals is to responsibly inform and educate parents about these standards and the potential they have to better prepare our children for college and jobs," said Marc H. Morial, President and CEO of the National Urban League.  "Among the goals of  Common Core are to ensure that all of our youth benefit from consistent, high-quality academic standards and that we cease to have a system in which schools routinely have different expectations and resource allocations for different students. Well-informed parents can work to help ensure that Common Core is equitably implemented in their communities so that schools, teachers and students have the resources needed to succeed."
Said Alfred Liggins, III, Chief Executive Officer and President of Radio One and Chairman of the Board of TV One: "Our family of companies is pleased to partner with the National Urban League in its efforts to ensure that upcoming generations receive an equitable education that readies them for the competitive marketplace in our country.  For more than three decades, our media brands have spotlighted the issues challenging African-Americans while also celebrating the achievements of the community.  We are honored to once again have the opportunity to support the community by utilizing our multimedia platform to provide clarity and understanding regarding the significant need for high-quality educational standards like Common Core State Standards.  Our children deserve as much."
The campaign consists of two TV One and Radio One spots featuring voiceovers by the National Urban League's Mr. Morial. The spots stress the value of a public school education that provides all students with the best possible opportunity to reach their full potential and succeed in college and career. In one of the TV One spots, a diverse group of children are lined up on a track ready to start a race. As a metaphor for starting out on equal footing, the race has all the children running towards a common goal: an education marked by excellence and equity via the Common Core State Standards. Mr. Morial continues to explain that Common Core State Standards exist to give every child a fair chance to receive a high-quality education and graduate high school ready for success in college and career. He then appears on camera saying, "With the equitable implementation of Common Core, there's no telling how far your child can go" with a directive to learn more from the website www.putourchildren1st.org.
In the second TV spot, a young African-American student is sitting in a public school classroom, looking through a textbook. Mr. Morial's voiceover explains that "something very interesting tends to happen when all students have equal access to a high-quality education. More students excel and more students succeed." On screen, the young boy transforms into a young man as an astronaut, a soldier, an emergency medical technician and a judge. On camera, Mr. Morial stresses, "When we put our children first with Common Core, there's no telling how far they can go."
Each spot also has a corresponding radio commercial based on the theme and narrative of the TV spots and in which Mr. Morial introduces himself to listeners and drives them to the website to learn more about Common Core.
Campaign to Run Through November 22 on TV One, Radio One, REACH Media and Interactive One.
For more information on the Put Our Children 1st campaign or on the Common Core State Standards, visit www.PutOurChildren1st.org.#PutOurChildren1st