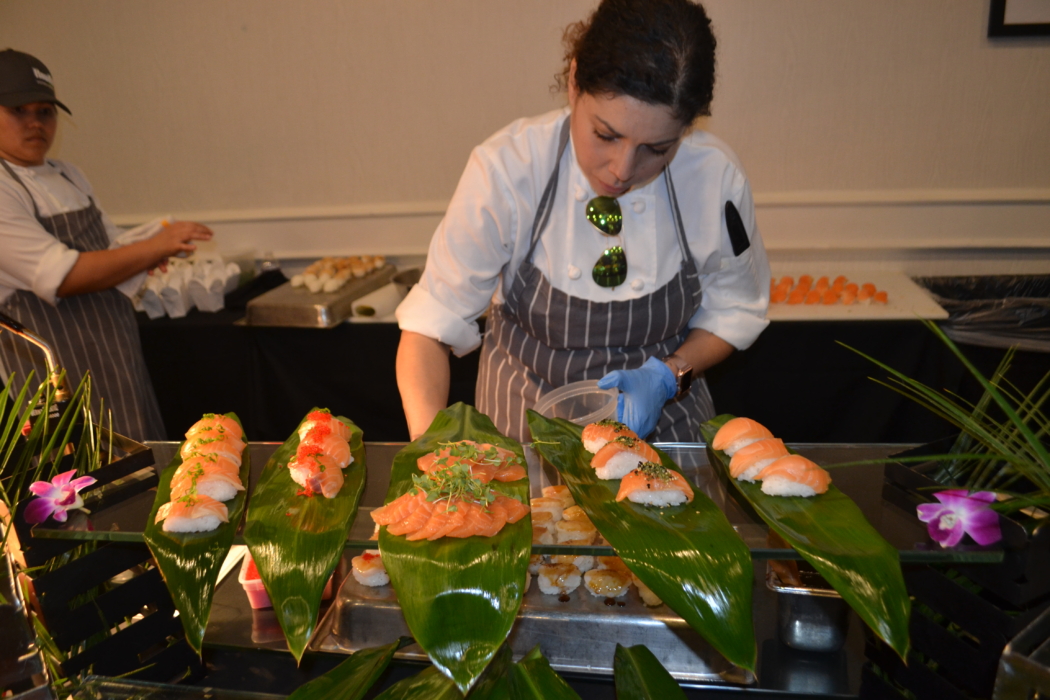 Meet the Chefs benefitting Casa de Amparo returned for its 21st annual fundraiser this year.
The event is a collaboration between the non-profit organization, a recognized leader in preventing child abuse and neglect throughout San Diego county and beyond, and 16 celebrated chefs from surrounding participating restaurants, who offered up both savory and sweet bites along with wine pairings.
Chef Reymundo Baez of The Brigantine served a poached lobster tostado on a crispy shell, Chef David Warner of Decoy Dockside Resort in San Marcos, served up shrimp & Grits with smoked sausage and Fiscalini cheddar.  Chef Israel Ortiz of Harrahs served mini Vietnamese Brisket Pho Buns, Chef Michelle (Shelly) Vasquez of Pillbox Tavern in San Marcos, served Bbq short ribs and macaroni salad.
And of course to satisfy the sweet tooth, Chef Jeffrey Strauss presented of colorfully decorated assortment of fruits and sweets— consisting of  chocolate covered strawberries, brownies, cupcakes, cookies and of course his popular chocolate pecan bread pudding.
In addition to a "decadent array of chef tastings," the event included a  VIP Reception, Live Auction, Silent Auction, Wine Auction and Opportunity Drawing. This sold-out event is typically attended by over 350 from local San Diego and surrounding areas is held Poolside at the Del Mar Hilton, a beautiful atmosphere to enjoy an afternoon of live music, food, wine, auction items, and to mix and mingle!
Proceeds benefit Casa de Amparo programs which include: Residential Services, Counseling Services, Family Visitation, Hayward Child Development Center, New Directions and Young Parent Network.
For more information visit www.casadeamparo.org.