Guyanese-Canadian actress Melinda Shankar plays Alli Bhandari on the hit drama Degrassi: The Next Generation.  This starlet and Backstreet Boys fanatic has lived in Toronto, Canada for the last five years while she has been acting for the show.  Even with five seasons under her belt, this captivating young lady still has many surprising and dramatic scenarios to share with us in the upcoming season.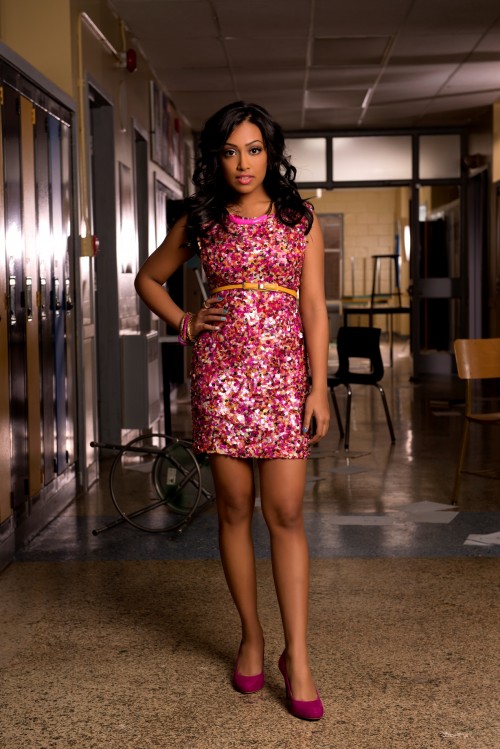 TCV: Did you follow Degrassi before joining the show?
MS:I was a huge fan!  I have two older sisters, and they used to watch the show, so whether I was age appropriate to watch it or not, I was still a fan.  Going into the audition or even seeing the building of the school was a bucket list checked off for me.
Being on the show is still one of those crazy things where it is my job and I've done it every day for five seasons and five years but it's crazy to sit back and think about where I was five years ago.  It's still new every time we read the script, and it's still exciting to me, and seeing the old cast members through events or when they stop by is still exciting to me.
TCV: Speaking of old cast members, did you ever get to work with Drake?
 MS: I did!  My first year was his last year.  It was only a two or three episode crossover, but he was very sweet.  It's funny because if I run into him at events he will still run over and give the cast hugs and kisses.  It's sweet.
TCV: What inspired you to begin acting?
MS: It's funny because my parents are from Guyana in South America, and with it being a third-world country, acting, TVs, and those kinds of things take a back seat in terms of priority.  However, my family thought entertainment was something that should be involved in everyone's life to try to make light of everything and try to bring a little bit of happiness into the community.  My great-grandfather on my mom's side used to be a director for theatre plays, and my grandmother was one of the actresses in the theatre.  We were a little more fortunate and had the tools and resources to perform, and to write scripts.  Acting was no surprise when I was old enough to say that that was the route I wanted to follow.  It wasn't a foreign thing to my parents because they always kind of expected it.  I started dance and karate competitively when I was three years old, so I was always performing and was always in the spotlight.  It kind of seemed like a natural transition once I wanted to break into being a character as opposed to just being myself.
TCV: How did your career on Degrassi come about?
MS: I'm actually from a small town, and there's no acting industry there.  It's very small, and I was with a little agency that was mainly for modeling.  That's kind of what I started with, and I think they were looking for a sibling for a cast member.  The character was pretty specific in terms of looks and demographics.  They searched in Toronto, and extended the casting to smaller cities in the area.  Even knowing I had an audition for Degrassi was enough.  That would have been it; just to say that I auditioned for the show I love.  I was blessed and got it.  I had to move to Toronto when I was sixteen, and I have been here ever since.  It was a process of auditioning, and having to go back to Toronto a week later for the callback, and then booking it.
TCV: How would you compare yourself with your character, Allie?  Do you have similar personalities?
MS: Over the past five years, Allie has kind of gained my habits and mannerisms through her being girly, and I myself am girly.  I'm also into fashion, which Allie is as well.  She's boy crazy, but I don't think of myself as boy crazy.  I'm very into social settings, and I have a lot of friends, as does Allie.  She's a little more extreme than I am, and she gets herself into a lot of trouble.  I would like to say that I'm a little calmer than her.  At least I get to live vicariously through her, and learn from her mistakes.  I guess that's kind of saved me from having to battle those teen issues on my own.
TCV: Degrassi depicts the ups and downs of teenage life in a fictional high school.  How do you think depictions of teenage life on television have affected the real world?
 MS: I think that although they might be heightened, at the end of the day they are always a lesson about what is happening in today's society.  I know through reading tabloids, newspapers, and having been a teen and going to high school that these issues are real, and these television shows are just something that kids can watch and learn from and hopefully avoid these issues or at least know that they are not alone in dealing with these things.  Hopefully they will realize that these things are natural, and a part of life and growing up.  It's always crazy to me when I get messages from girls saying that the same things have happened to them, and that it's wonderful to know that they are not alone.  They have said that Allie makes them more comfortable and happy, because they no longer feel like they are the only person battling a particular issue.  If you don't have someone to talk to about it, it's really easy to feel like you're alone.  It's one of those things where maybe not every high school has extreme amounts of drama, but it would be a really boring television show if it didn't have any, right?
TCV: Do you think documentary or reality television shows such as 16 and Pregnant have had more of a positive or more of a negative affect on teen decision making?
MS: I think that would depend on the individual, and how they perceive it.  You can take it two ways, either as a lesson or, depending on the head you have on your shoulders, see it as an opportunity to be on television.  I think that when you look at those shows there is nothing glamorous about it and it doesn't really heighten anything or make anything exciting.  I think that although it does seem to somewhat glorify it in a way, it's really portraying the reality of such serious issues.
TCV: Do you think these shows such as 16 and Pregnant have accomplished their goal of promoting awareness, or would you say that they have cause teens to seek fame regardless of what it takes to get on television?
 MS: I think they have accomplished their goal of creating awareness, because no one really wants to put themselves in that situation.  I do actually watch the show, and they don't have press conferences or autograph signing; they don't do that.  They show the struggles of having to wake up through the night having to deal with the baby, trying to finish high school, and having a social life.  The fact that they have a television show might cross your mind, but when you see these girls not being able to go and have fun with their friends and do activities that seem normal to being a teen, it's not really worth the tradeoff.  I don't think they would want to be in that light.  If anything, they would want to be seen in more of a positive manner than being sixteen and pregnant.
TCV: Are there any upcoming episodes of Degrassi we should look forward to?
 MS: There are!  It's actually airing within the next couple of weeks, and I'm an extreme Backstreet Boys fan, and I don't think I'm ever going to get out of that.  We have an episode coming up named after the Backstreet Boys song I Want it That Way.  I don't know whether the writers did that on purpose, or whether it was fate, but I'm extremely excited bout that.  Allie has recently been on and off again with her boyfriend, Dave, and I think right now it's kind of a permanent ending, or at least a temporary ending.  She might be exploring things with a new boy.
Degrassi celebrated it's 300th episode on Friday, October 26th.