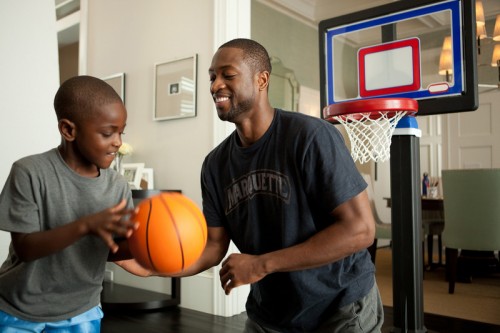 ENGLEWOOD CLIFFS, N.J., March 13, 2013 /PRNewswire/ — Basketball greats will share a different side of themselves with sports fans throughout the NCAA ® Division I Men's Basketball tournament, thanks to Dove® Men+Care™.  The Unilever men's personal care brand is giving fans a look beyond free throws during March Madness®, to show how important fatherhood is to nine-time basketball All-Star Dwyane Wade and college sports analyst Jay Bilas. Starting today, Dove® Men+Care™ will celebrate men who care for what matters in the NEW "Real Moments" campaign, which highlights relatable experiences from the lives of these college basketball icons.
"This year during the tournament Dove® Men+Care™ will showcase moments in men's lives that really matter," said Rob Candelino, Vice President for Unilever Skincare.  "When fans learn that playing 'Defense' for Dwyane Wade means teaching his sons how to guard a mini-hoop in his living room, instead of a fellow player during a professional game, it hits home where men today place priority — caring for their family comes first."
The campaign will share what matters to Wade and Bilas off-the-court through a humorous yet personal video series, that will also highlight the superior grooming maintenance Dove® Men+Care™ provides men.  Featuring NEW Dove® Men+Care™ Face and Hair ranges designed specifically for men's needs, and new additions to existing Personal Wash and Deodorant/Antiperspirant lines, these videos will air as commercials throughout NCAA® March Madness® programming, as part of Unilever's multi-year NCAA® Corporate Partnership with CBS Sports and Turner Sports.  The campaign can also be seen on DoveMenCare.com, Facebook.comDoveMenCareUS, and www.youtube.comdovemencareus.
Source:  Unilever