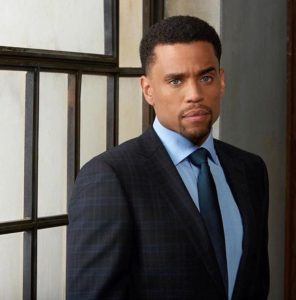 Looks like the perfect guy is joining season 4 of BET's "Being Mary Jane," old blue eyes, Michael Ealy. Created by The Game creator Mara Brock Akil, Being Mary Jane follows the sometimes disastrous personal and professional life of news anchor Mary Jane Paul ( Gabriel Union).
Ealy will play Justin Talbot, the new producer of Great Day USA who unfortunately for Mary Jane, also is the man who previously got her fired from CNN. Upon arriving at Great Day USA, he remains a thorn in Mary Jane's side, and she must learn to cleverly circumvent his power plays.
Ealy, who had been considering multiple feature offers for next year, told the website Deadline that he was approached directly by his friend Union to consider taking on the role. "I had turned down several network offers, as I really was not interested in doing another show at the time, but because Gabrielle is a friend, I told her that I'd seriously think about and talk with my team. At the end of the day, I felt like we all have a social responsibility to help elevate material with people of color in any way that we can, and if there was an opportunity for me to help my friend and the cultural perceptions of our work, then I would do my part."
Union, Jeff Morrone, Will Packer and Erica Shelton-Kodish executive produce, and Shelton-Kodish also serves as showrunner. Salim Akil directed multiple episodes the past three seasons.
Ealy, nominated for a Golden Globe for Sleeper Cell, stars opposite Juliettte Lewis in ABC's Secrets & Lies, and recently wrapped the remake of cult film Jacob's Ladder as the titular character. He also starred opposite Sanaa Lathan in the thriller, "The Perfect Guy."