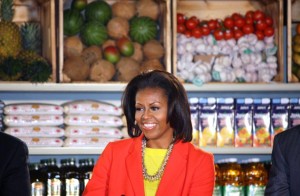 As part of her campaign to battle childhood obesity, First Lady Michelle Obama joined Robert K. Ross, M.D. And CEO of California Endowment and, other local leaders who visited the site of a future grocery store in Inglewood on Wednesday and spoke about the importance of bringing fresh food to disadvantaged communities.
The California Freshworks fund, a 264 million public-private fund partnership loan fund led by California Endowment partners, is a part of a statewide push to will bring affordable healthy food access to underserved communities across the state.
The market Northgate Gonzales which will open in April in an empty warehouse on South Prairie Avenue, in the Inglewood section of Los Angeles.