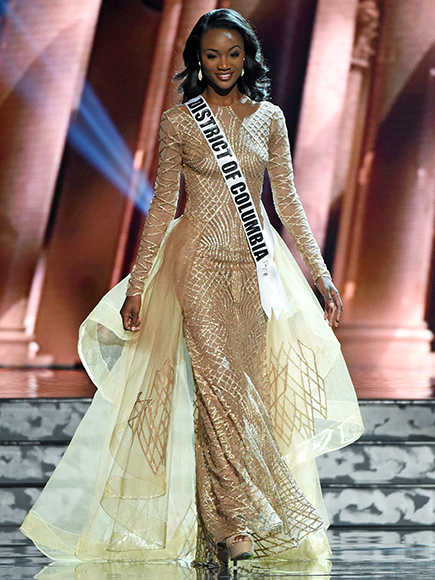 Our congratulations go out to the newly crowned Miss USA, Deshauna Barber from the District of Columbia!
Barber is a 26-year-old Army officer who when asked about women in combat, her answer was this: "As a woman in the United States Army, I think … we are just as tough as men. As a commander of my unit, I'm powerful, I am dedicated," Deshauna Barber said. "Gender does not limit us in the United States."
Deshauna is an I.T. Analyst for the U.S. Department of Commerce. She is a graduate of Virginia State University and has dedicated her platform to raising awareness for PTSD.
Deshauna has a passion to serve the men and women in the U.S. military, specifically focusing her platform on PTSD treatment  for soldiers returning from deployments and suicide prevention in the Armed Forces.
Deshauna Barber was presented her crown by last year's winner, Olivia Jordan of Oklahoma. The annual pageant was held Sunday in Las Vegas and saw 52 contestants vying for the crown.
Miss Georgia, Emanii Davis, was named the second runner-up while Miss Hawaii, Chelsea Hardin, was named the runner-up.
As the winner of Sunday's 2016 Miss USA competition held at the T-Mobile Arena off the Las Vegas Strip, Barber will go on to compete in the Miss Universe contest.