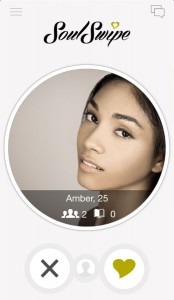 SoulSwipe is the fastest growing African American dating app on the market right now.  SoulSwipe launched in the Apple App Store in March of 2015, with an Android release on Tuesday, April 28th.
Press release dated April 17, 2015 states:  This is the only location-based dating app fully committed towards serving the African American community. SoulSwipe already has over 70,000 users across the U.S. and will launch on April 20th in Jamaica with plans to continue international expansion in the coming months.
Using GPS technology, users can set their desired search radius and have the option to match with anyone that's within the area. With a simple swipe right to "like" a profile or swipe left to "pass" on a profile, users can effortlessly like or pass to match with each other.
Once two users right swipe and 'like' each other they're officially a "match" and have the option to chat. Much like real life encounters, SoulSwipe replicates people's initial "yes" or "no" reactions when evaluating potential love interests.
SoulSwipe takes away the fear of rejection in dating; users don't know if someone swipes right or left on their profile, paving the way for a more confident form of communication. SoulSwipe was created to make black dating easier than ever by creating a fabric that unites African Americans across a region.
One user compared it to going to an ice-cream shop full of your favorite flavors, chocolate, mocha, butter pecan- the list goes on. "Most dating apps have such a diverse user base, which makes finding someone compatible extremely difficult. You have to search and search until you finally find someone that's your type.
SoulSwipe shows you exactly who you want to see and makes searching for your next boyfriend or girlfriend seamless," says Gianni Coleman, SoulSwipe General Manager. SoulSwipe has also added an additional layer of security by requiring users to login with Facebook to assure users are interacting with "real people".
With no cumbersome questions like other dating apps, SoulSwipe users can literally start using the app in under 10 seconds!
"Finally! It's nice to have a place to connect with my own people. I love the sense of community SoulSwipe gives us," says Jane Campbell of Brooklyn, New York.
For information please visit www.SoulSwipe.com.