I wasn't the only one who noticed again this week that even with good economic news, the market and the purveyors of doom and gloom greeted earnings season with little if any enthusiasm.  Yes, the rally coming out of 3rd quarter hasn't been sustained.  The markets were tap dancing on 4 year highs and a noticeable pullback was more than anticipated.  The U.S. market has performed as expected, mainly consolidating and building a new base.  The possibility of a larger pullback remains, and there is enough evidence to warrant a cautious approach as we move deeper into the month.  During earnings season, it's not the news that holds primary importance, it's the market's reaction to that news.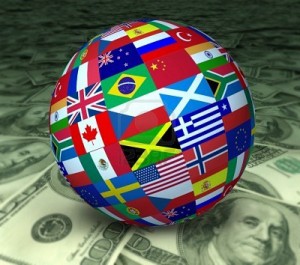 Last week's losses ranged from just over 2% on the Dow to nearly 3% on the NASDAQ.  Internationally, it wasn't exactly pretty, either, with nine of the twelve major markets posting losses.  There's significant caution across the globe, the world economy isn't deteriorating disastrously as some would have you believe, but the world economies aren't reacting particularly well either.  Europe is fretting over its possibility of double dip recession.  The populations in a few European countries aren't exactly 'dancing in the street' in support of austerity.  Spain is in need of financial rescue, Cyprus needs a bailout and Greece is pleading for a new debt program.  In a counter signal to Europe, the Chinese economy is showing tiny signs of improvement; Chinese export and inflation data for September came in better than expected, with exports jumping 9.9% to a record $186.4 billion.  The infrastructure projects that have been proceeding are assisting the steel sector and prices for iron ore are up from multi-year lows.
I remain optimistic. According to my calculations, this week's Monday morning report on retail sales should be nicely surprising.  A second round of the Presidential debates arrives on Tuesday.  Building permits and housing numbers on Wednesday (which I also expect to be better than expected).  Then finally the Initial Jobless claim numbers on Thursday, spiced with a little extra intrigue after last week's silliness.  A little positive coordination and the markets could spring back towards the upside.  A little more positive global coordination and we could see a very bullish posture continue for the next several weeks.  It's a very close call and much depends on psychology and sentiment.  I'm feeling quite agile right now as I look to the week with a cautious eye and expect many to present a downbeat outlook.  However, I see an opportunity to seize the day even when the overall earnings story is mixed.  I remain optimistic.
Dempster R. "Bobby" Cherry
Financial Advisor