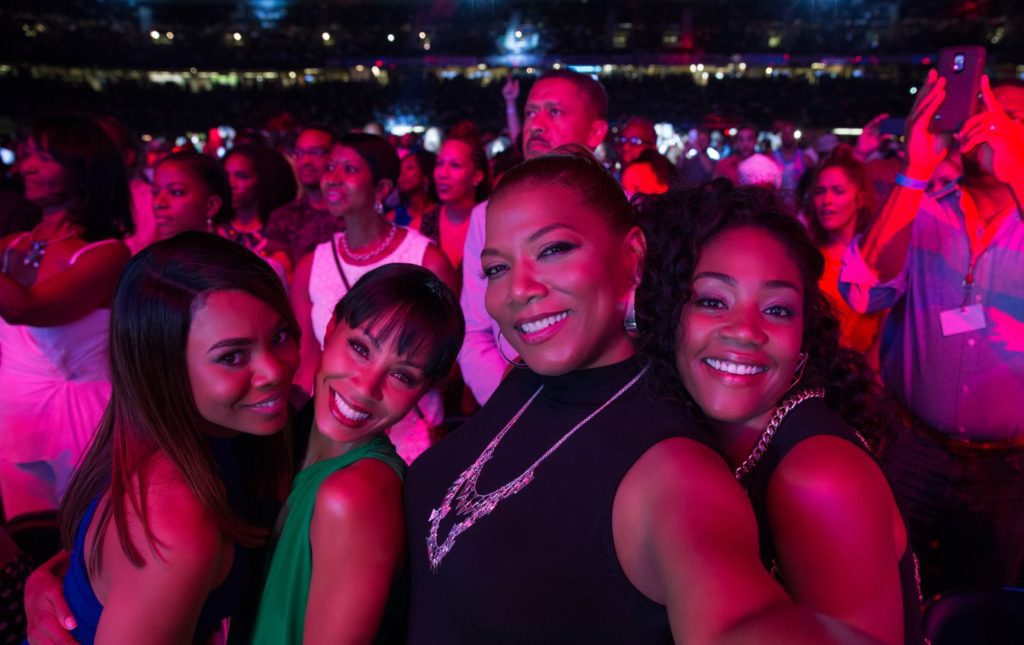 If you're looking for non-stop laughter, mixed in with raunchy real talk, and a valuable lesson on the true meaning of friendship, "Girl's Trip", is a must see.
Girls Trip, directed by Malcolm D. Lee, and producer Will Packer, is a film about four best friends from college that call themselves the Flossy Possy, who decide to reunite after years of being apart for a week-end of shenanigans in New Orleans, for the annual Essence Festival.
The film is straight comedy, laugh out loud funny from start to finish. And, that includes lots of audience participation, talking back to the characters on the screen, singing and dancing as film footage skim through stage performances by, New Edition, Maxwell, Puff Daddy and the Bad Boy Reunion, NEYO, and more! Girls Trip is one heck of a good time as the audience get to relive the Essence Music Festival on screen. Watching NOLA come alive during the festival, will make you want to hurry up and get tickets for next year.
With that said, a huge shout out to script writers, Kenya Barris (Black-ish) and Tracy Oliver (Barbershop: The Next Cut), for their brilliant writing with incorporating music fest cameos, as well as colloquialisms into the script—"You Go Girl," "Bye Felicia" ,"Yass Hunty!", "Ratchet" and "#BlackGirlMagic" into the script.  Everything about the comedy felt authentic. In one very funny scene, Regina Hall, who plays "boss chick" renowned author and motivational speaker Ryan Pierce, attempts to school her scatter brained agent Elizabeth, played by Kate Walsh (Private Practice) on cultural appropriation by asking her to refrain from those types of sayings during the festival. Hall is hilarious as Ryan, a character seems to have it all, yet at times the audience watches how  her confidence plays out when it fades to insecurity.
Rounding out the phenomenal and hilarious cast is, Jada Pinkett-Smith as the nurturing divorced mother of two, an ultra conservative Lisa, who constantly has to be reminded by her friends of her wild college days at Freaknik, the annual spring break vacation, primarily of students from historically black colleges and universities. Her scenes with Kofi Siriboe (Queen Sugar), were amusing to say the least. Queen Latifah (Sasha), plays a struggling gossip blog columnist who takes a back seat to Ryan, yet always has her girls back, and is ready to set it off at any minute. Sasha's scene with Iyanla Vanzant, the relationship guru is hilarious.  Comedian Tiffany Haddish (The Carmichael Show), who plays Dina, is ultimately the scene stealer. Dina is described as that round away girl, that you want around for laughs, but just know, she's a loose cannon that will have you doing God knows what, with who knows what hence: that grapefruit scene, and every other scene is brilliant comedic timing!
All scenes will have you in stitches as the Flossy Possy, now in presumably in their forties let loose and re-live their college years of at FAMU, in New Orleans—which includes a term coined as getting "White Girl/Boy Wasted," hotel room brawls, partying all night, dance-offs and of course men.
Girls Trip, features a cast of all black female main characters, showcasing a beautiful bond between four individually dynamic women having each other's back, describing the meaning of true friendship.
All four leads, showed out in this film, the performances were all stellar.   It's evident that audiences across America, embraced the humor and more importantly the message behind making it the number one comedy in America, earning 30.4 million, becoming the highest-grossing live-action comedy of the year so far.
Girls Trip especially over performed, seeing that it only cost $19 million to make; received a rare A+ Cinemascore—data from a market research firm that polls major movie releases on opening night (for comparison, even the tears of joy-inducing Wonder Woman only scored an A).
Some might consider Girls Trip, a chick flick.  Well, it is, but it's a chick flick for anyone that wants to be entertained for over 2 hours with non stop laughter. And, just one more thing,  you must be open to, let's say a bit of ratchet fun!