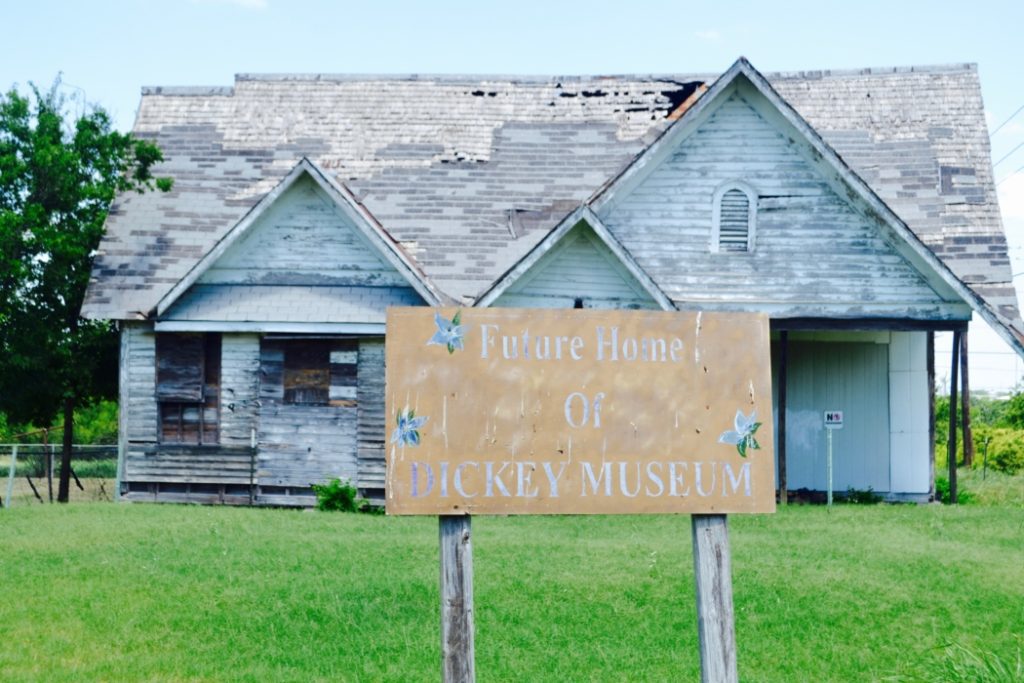 "To live in the hearts of those we leave behind is not to die." Dr. James Lee Dickey. 
What a beautiful and poignant quote by a man whose name often comes up in conversation with my mother.  After recently taking a trip with her down to Austin, Texas, I now know why the name Dr. Dickey stayed with her throughout the years.
You see, Dr. James Lee Dickey (b. 1893–1959), was the only black practitioner in their county and one of only 130 black doctors in the state of Texas. Mom grew up in Taylor, outside of Austin, during a time when Jim Crow laws were enforced and the community lived separately and unequally in the tiny town.
Sharing with me her first hand experiences with the small town hero, gave me brief insight as to who he was, and how strong his dedication was to the black community. She recalls that between 1940 and 1950, Dr. Dickey delivered her youngest sister (Laura Faye), a niece (Brenda) and a nephew (Larry). In fact, Dr. Dickey made such an impact on her family's life that to this day it's hard for any other doctor that she comes in contact with to compare.
She's not the only person who was touched by Dr. Dickey, in fact the entire community was, which is why his home located at 500 Burkett Street in Taylor, is currently under construction and will be turned into a museum.
Dr. Dickey was once quoted as saying, "The hand of destiny guided me to Taylor, I came to stay a few years; I remained to do my life's work."
But how exactly did this man end up in Taylor, and why is preserving his legacy so important?
He was originally from Waco, Texas and earned two degrees—one from Tillotson College (now Huston-Tillotson College) in 1916 and another from Meharry Medical College in 1921. He then married Magnolia Fowler and brought her to Taylor, where they worked together on many projects, including support of the African Methodist Episcopal Church.
In Central Texas he established a medical facility that started out as a three-bedroom clinic and then expanded to a fifteen-bed hospital with modern surgical and obstetrical facilities. During that time, there were no services for blacks in any hospital in Williamson County except for two beds in a building set apart from one hospital. Dickey went on to discover that there were no facilities for blacks in Bell, Lee, Milam, or Bastrop counties. He investigated health problems among the black population and discovered that the principle causes of death were typhoid fever, complications of childbirth, tuberculosis, and venereal diseases to name a few.
He conducted health campaigns and established a prenatal clinic where all expectant mothers who were unable to pay could have free examinations and advice, and established a venereal-disease clinic to treat those unable to pay. Early in his career he also curbed a typhoid fever epidemic through a vigorous vaccination program.
He also worked tirelessly to address the problems of segregation and emotional suppression of black people. Because violence was the cause of numerous deaths, Dickey, along with others, developed recreational facilities for black youth. In 1940 the school board bought land for a park for African Americans, and with the help black and white citizens, they constructed a building used as a community center.
Throughout the years, Dickey received many honors for his community service. In 1953 he was named the year's most outstanding citizen of Taylor, by the chamber of commerce, making him the first black man to be honored by the community.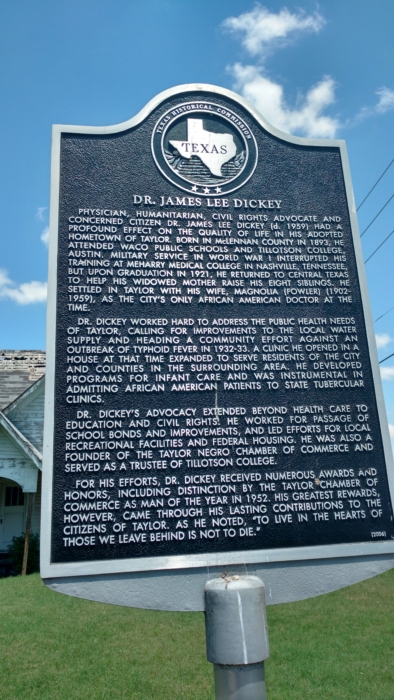 Incredible! Black Excellence at its finest.
Currently, thanks to a group of people made up of the Blackshear & O. L. Price Ex-Student Association, Dr. Dickey's former home will be restored and turned into the Dickey Museum. During a groundbreaking ceremony earlier this year in January, professor Barry Norwood of Prairie View A&M University announced that his students will be involved in restoring the building, along with Texas Tech who will also have students work on the project. The target date to open the museum is November 12, 2016, and I can't wait to see the final product.
Traveling with my mother back to her hometown was an honor and a privilege and I am grateful to have learned the history of this man who impacted so many lives in Taylor. We met with some wonderful people including Board President, Jennifer Harris and saw first hand the love, appreciation and respect for this man, and how he made such an indelible impression on many lives. Dr. James Dickey we salute you, and are honored to preserve your legacy.
The target date to open the museum is November 12, 2016.