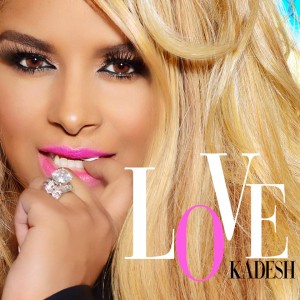 By Leah Jay
IT WAS KADESH LIKE YOU NEVER SEEN HER BEFORE!
The reviews are in and it is official, Kadesh aka Desiree Coleman Jackson lived up to the tagline that said "It's Kadesh like you never seen her before." The private listening party for Kadesh was held Friday, April 10, 2015 in a very elegant setting at H.O.M.E. (House of Music and Entertainment) in Beverly Hills. As guests poured in, some went to the red carpet while others mingled and enjoyed exquisite hors d'oeuvres which included assorted gourmet sliders, oversized crab cakes, macaroni & cheese balls, pot stickers and mouth watering jumbo coconut shrimp! Songs from the singers upcoming CD "Love" played in the background setting the atmosphere for an evening of excitement.
As opposed to making a grand entrance onto the stage as most artist do, after the red carpet, Kadesh made her way through the anxiously awaiting crowd and personally greeted, posed for photos and welcomed as many of her guests as possible. Her sweet, sincere and very girly personality endeared the crowd to her immediately. Kadesh insisted on meeting her guests as she has never wanted to be an artist that was untouchable.
"It's important to connect with people. They need to know that you go through some of the same things they do. I am not here to judge, I am here to offer a solution by sharing my story through my music in hopes to help someone else. It's time to rejoice and enjoy life and spread some love along the way," says Kadesh.
Music reps, Clyde and Kendall Duffie of D3 Entertainment/Cloud9 introduced the singer and prepared the crowd to hear a new style of gospel music that is hitting the airwaves in which Kadesh is blazing the trail! All eyes were on Kadesh as she glided onto the stage in a sequin leather form fitting dress designed by Linda Stokes. Within just a few words of her testimony and the telling of the making of the CD titled "Love", she was in performance mode and the anxiously awaited crowd was very receptive!  She started off with "Life" a neo-soul style song that pleasantly disarmed the crowd, then it was "Blue Ribbons" and song by song, Kadesh worked the stage and lured them into her journey a little more. Her single "Strip" earned a standing ovation and the crowd remained on its feet as she took the beat up a few notches with "My Mind", a crowd pleaser that had everybody dancing and singing!  She ended her performance with "Changed" a heartfelt song that was a blend of traditional and contemporary gospel. The entire room was on their feet singing "I've Changed"! The excitement and crowd participation accompanied with tears of joy, words of affirmation and confirmation went on for more than 15 minutes!!!
The CD "Love" is produced by Rodney Jones and will be available in June on iTunes and in some local retailers.
In addition to many industry insiders attending the event, some of the notable guests spotted in the room included NBA great and husband to Kadesh, Mark Jackson, Kenny "The Jet" Smith and wife Gwen, Grammy nominated artist Angie Fisher, Silk the Shocker (No Limit), former NBA player, Doug Christie and wife Jackie Christie, actress Dawn Lewis and Tammy Townsend, Judge Mablean, Tonya Banks (Little Women LA).
Check out highlights from the party on youtube.
Starting May 31, 2015, Kadesh will host "Good Music Sunday's" at H.O.M.E once a month where she will showcase some of the hottest talent, signed and unsigned. Industry insiders have already confirmed to attend each month. To learn more visit www.Kadeshlove.com.