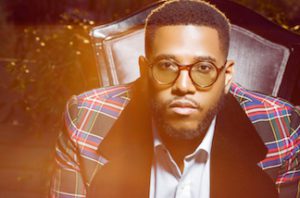 Guordan (pronounced Jour-dan) Banks, a Philadelphia-born singer/songwriter, earned his first Billboard No. 1 as his soulful "Keep you In Mind" rose 2-1 on the Adult R&B Songs Chart in the June 11th edition. The song ascended 6 percent in spins at the format according to Nielsen Music. The song continues to stay in the Top 5, remaining steady at No. 2 on the chart. His debut album, UNPOPULAR, will be released later this year on his own label, Bank On It Entertainment.
A solely independent artist, Banks' "Keep You In Mind" has become a triumphant and unique indie label success story. The song has received an emphatic response from Urban Adult Contemporary radio programmers and has had a high showing on various music charts, including Billboard's "Most Added" Chart and music industry trade, AllAccess.com charted the song among "Cool New Music."
"Keep You In Mind" has increased air-time with major rotation in markets such as New York, Los Angeles, Chicago, Washington, D.C., Baltimore, Philadelphia, Detroit and Atlanta. Streams on music platforms, such as Spotify, YouTube, Soundcloud and Shazam, have increased significantly as a result of national airplay.
Banks' second single, #WYWDT (Where You Wanna Do This?) featuring Dej Loaf, will impact urban mainstream radio on June 20th, but already showing early support and buzz from DJ Drama and DJ Sense on Sirius XM Shade 45.
Raised in an adverse environment, Banks' parents, both preachers, surrounded their eight children with music and created a home within which music was a centerpiece. After being rejected from a school play due to a speech impediment, a young Banks was encouraged by his family to explore singing and songwriting. Undeterred by these early life experiences and buoyed by his family, Banks pursued a pathway that has led to his success.
Banks' work has received critical acclaim and has effectively contributed to the resurgence and current elevation of R&B music.
Banks' will grace the stage at a performance on the Sirius XM Heart & Soul Stage during Essence Festival on July 1.
"I've never been more excited in my life about my career and the opportunities that I have as an independent artist," says Banks. "It's an exciting thing to be able to be an entrepreneur in the entertainment industry and put out your own music, control your own content, and give opportunities to different people. It's definitely a dream come true."
Banks' range and creative musical imagery has afforded him the opportunity to work with and collaborate on projects with high-profile artists, including 50 Cent, K. Michelle and Kanye West. As a songwriter, Banks has penned hits on Adult R&B Songs for Keyshia Cole ("Trust and Believe" — No. 12 peak in 2013) and John Legend ("Who Do We Think We Are," featuring Rick Ross – No. 13, 2013).