Grammy-nominated singer-songwriter KEM, is one impressive and versatile musician. After listening to the singers collaboration on Ronald Isley's song, "My Favorite Thing" released in 2013, my first thought was, 'check KEM out, he's a rapper!'  I especially enjoy the part when Isley sings, "So if you meet her on Facebook, Tweet me. My baby is only one I freaks see." It's interesting hearing the social media interaction in this song between two mature and, sophisticated artists.  
As for KEM, I have a bone to pick: What took you so long to come out with your latest album? Which by the way is outstanding!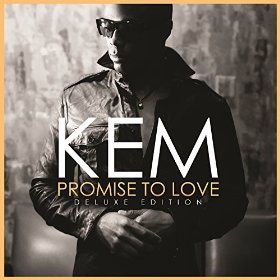 In Promise to Love, KEM's fourth album released on August 25th, the self taught musician delivers  some of  his best work yet. Debuting at #1 on Billboards Top R&B/Hip-Hop Albums, Promise to Love is sure to gain the  talented singer even more  faithful fans. 
While remaining true to his authentic jazzy R&B sound, KEM's latest CD is a bit more edgy and, has something for everyone.
One of my personal favorites is track number 3 "Downtown," a classic sound  with KEM's vocals,  featuring guest artist Snoop Dogg. This particular cut, has a smooth (clean) flow that's just the right vibe that, will have you groovin' to the beat and up on your feet.
My other top favorites are the jazzy "Say Something Real," which gives us an Al Jarreau "Roof Garden" song type of vibe, an artist sound that KEM's often compared to.  KEM stays true to his core fans with his infectious melodic tunes, "Do What You Gotta Do," "Nobody," "The Soft Side of You," and "It's You," the first release off of the album.
I've listened to all 13 songs on the Promise To Love CD–It's obvious that KEM knows what it takes to please his fans.