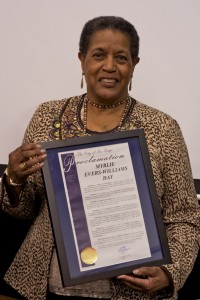 On Thursday, April 9, 2015 UC San Diego Helen Edison Lecture Series presents: Tomorrow's Leaders: Building on the Legacy of Selma.
Guest speaker for the series is Myrlie Evers-Williams, widow of slain civil rights activist Medgar Evers.
Evers-Williams has become a symbol of courage and perseverance, steadfast in her march towards social justice. She made history in becoming the first female chairperson to lead the NAACP. Elected during a tumultuous time when the nation's oldest civil rights organization was rife with financial troubles and scandal, her leadership rejuvenated the agency, helping ensure its relevance for generations to come. Evers-Williams founded the Medgar Evers Institute to promote education, training, and economic development while exposing new generations of students to the cause for which her husband died.
Thursday, April 9, 2015
at 7:00 PM
UC San Diego Price
Center West Ballroom
Free and open to all
no tickets or reservations required
Parking is $4.00 after 4:30 p.m.
Guest can park in the UCSD Gilman Parking Structure. An evening guest permit is $4.00 and can be purchased at a kiosk with exact cash or credit card. After parking, walk north of Russell Lane, Turn left (west) on Lyman Lane, Price Center will be on your right (north.) Price Center Ballroom B is on the second floor. Follow signs provided.