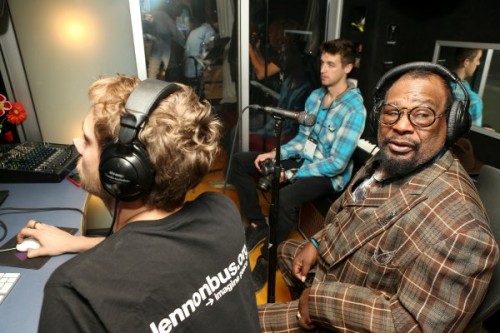 January 21, 2015, Mr. P-Funk himself, George Clinton, made his presence well known at The National Association of Music Merchants (NAMM) media preview day. With hit's such as; Parliament's "Chocolate City," "Atomic Dog" and our all time favorite, "Flashlight," let's just say the master of funk knows a thing or two about the music business. 
Set up inside of the John Lennon Educational Tour Bus, the legendary Clinton, was onsite as a guest songwriting mentor to work with students from Berklee College's, Berklee City Music Network.  He discussed the importance of music education and a college music initiative in collaboration with The John Educational Tour Bus. The Lennonbus.org is a non-profit outreach program established with the mission of giving young people a chance to express themselves through music, video and broadcast productions.
The session was live streamed from 2-3pm PST. During the livestream, viewers had an opportunity to submit their questions for Clinton using the hashtag #FunkWithGeorge.
After taking a short break from mentoring sessions, the 73 year-old funk legend headed over to exhibit hall B, for a chat and photo opportunities with the media.
The National Association of Music Merchants (NAMM) is a not-profit organization who's mission is to strengthen the music products industry and promote the pleasures and benefits of making music. The NAMM show annually draws nearly 100,000 music industry leaders to the Anaheim Convention Center.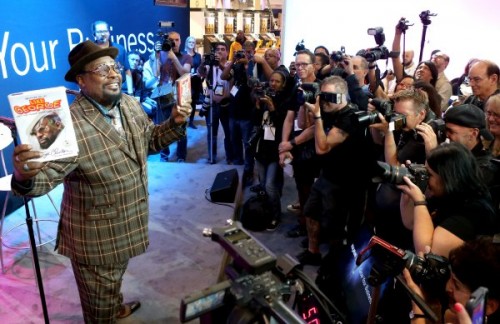 Companies onsite to exhibit their products were:
Blackbird Guitars, Cordoba Guitars, Epsilon, GTC Sound Innovation, IK Multimedia, imitone, iZ Technology, Line 6, Inc., Make Noise, Marion Systems Corporation, McCarthy Music, Monster Products, Orange Music Education, Peavey, Rock and Roll High, Roland Corporation, Taylor Guitars, TC-Helicon, The John Lennon Educational Tour Bus, V-MODA, Yamaha