By DL White
---
The late god-father of Soul, James Brown sang in one of his hits,
"It's a man's world, it's a man's world, but it would be nothing, nothing without a woman or a girl."
Brown was right women are the healers of society and make things better and often right.
Welcome to National Women's History Month which has early origins dating back to March 8, 1857, when women from various New York City factories staged a protest over poor working conditions (www.womenshistory.org) The initial movements and protest were largely staged by Caucasian women as a result of the rampant discrimination and racism that prevented African American women from working in the many factors and industries.The intersection of sexism and race was addressed, thirty-four years prior to the 1857 protest in1823, as Isabella Baumfree born into bondage in 1797, in Ulster Co. New York, began speaking out on the injustice of slavery and the lack of respect for women and especially women born of African descent (www.nps.gov/people/sojourner-truth).
Baumfree, changed her name after escaping bondage in 1826, she was affectionately known as Sojourner Truth. So-journer – because of the many miles she traveled to be free, and the Truth, because long before women's suffrage and Civil Rights, Sister Sojourner was speaking Truth to Power. She famously asked the question, "Ain't I A Woman Too," in one of her impactful speeches.
The lack of respect and opportunity gave rise to the first Women's Day celebration in the United States which took place in New York City on February 20, 1909, when Theresa Malkeil, an activist who served on the women's committee of the Socialist Party of America rallied a crowd of reportedly 2000 at the theater in Manhattan to hear speeches of equal rights and spirited singing.
Various events were staged over the years however; it was not until 1980, when President Jimmy Carter formally recognized Women's History Week with a signed proclamation and acknowledgment of the trailblazers who fought for equality thus changing the world for the better.
The Black woman has always had to champion her cause and fight even more diligently for her seat at the table, a table in which she was often perceived as the server versus a decision maker.
Over the years, Black women have distinguished themselves in every profession from astronaut to astro-physicist, politician to philanthropist, engineer to researcher, educator, dentist to doctor and many other professions in between, often enjoying the role of mother as well.
Black women are true healers of society; a few of those that have added to the fabric and community in Southern Arizona over the years are shared here: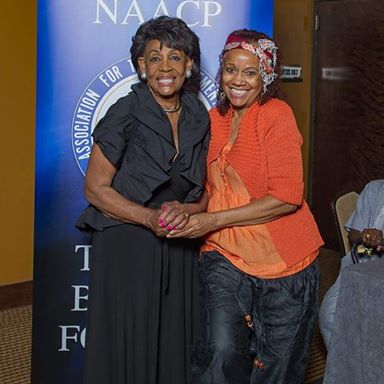 Barbea Williams, the president/founder/CEO of the Barbea Williams Performing Company is pictured with Congresswoman Maxine Waters, the keynote speaker for the Tucson Branch NAACP at a recent Freedom Fund Dinner. For over 35 years, Williams has championed and kept alive the African and Afro-Caribbean art form of dance and culture in the Old Pueblo. Annually Williams will present several productions (plays and artistic dance revues) showcasing and keeping alive the culture and interest.
Former Arizona State Representative Herschella Horton, served in the AZ House of Representatives from 1991 – 2001, an RN by profession, Horton became the voice and catalyst for change for people in and out of her District. She served as the Minority Whip, was selected as Legislator of the Year in 93 and 94, and was honored by the National Association of Social Workers AZ Chapter – as Person of the Year in 2002.
Betty Liggins, pictured with James Meredith, and a Tucson elected official was a staple for over 40 years in Southern AZ. Betty was a Nurse Practionner by profession. She set up Health and Wellness Clinics in several low income areas. She was the District Chair and Precinct Committee Capitan, often rallying her community to get out and vote. Betty was a Delegate to the 1988 Democratic Convention in Atlanta, GA, as a Jesse Jackson delegate. She served as a volunteer Lead for the Pima Co. Sheriff's Department to assist in improving relations between the Department and Communities of Color. She was a member of the Tucson Black Women's Task Force, NAACP, Tucson MLK Celebration Committee, and many other organizations. If Betty was not participating she was donating to support the ongoing effort.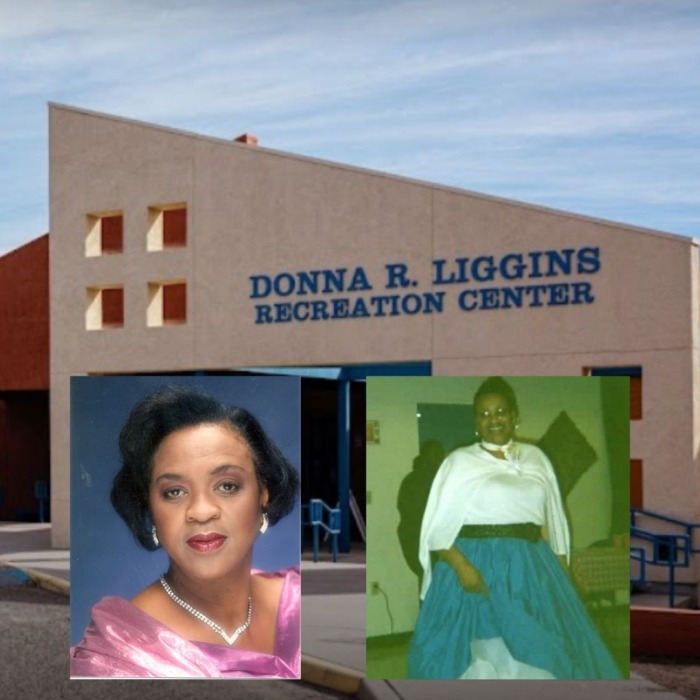 Former educator Etta Jackson Dawson, a Kansas native, Ms. Dawson was a counselor and teacher at segregated Dunbar and later John Spring Elementary following the schools moved to an integrated classroom. Mrs. Dawson and her husband Sidney (Voice and Music teacher) were recruited to teach at Dunbar by the school principal Morgan Maxwell, Sr.
Etta Dawson was an active member of the Tucson community; she was Link, AKA, and member of the NAACP. Pictured with her conducting a Link Chapter Sickle Cell Anemia fundraiser (center) Everlyn Stewart Franks and Irene Hutchinson (right). If you saw one of these ladies you would see all three. Franks and Hutchinson were also active with the NAACP and Sorority.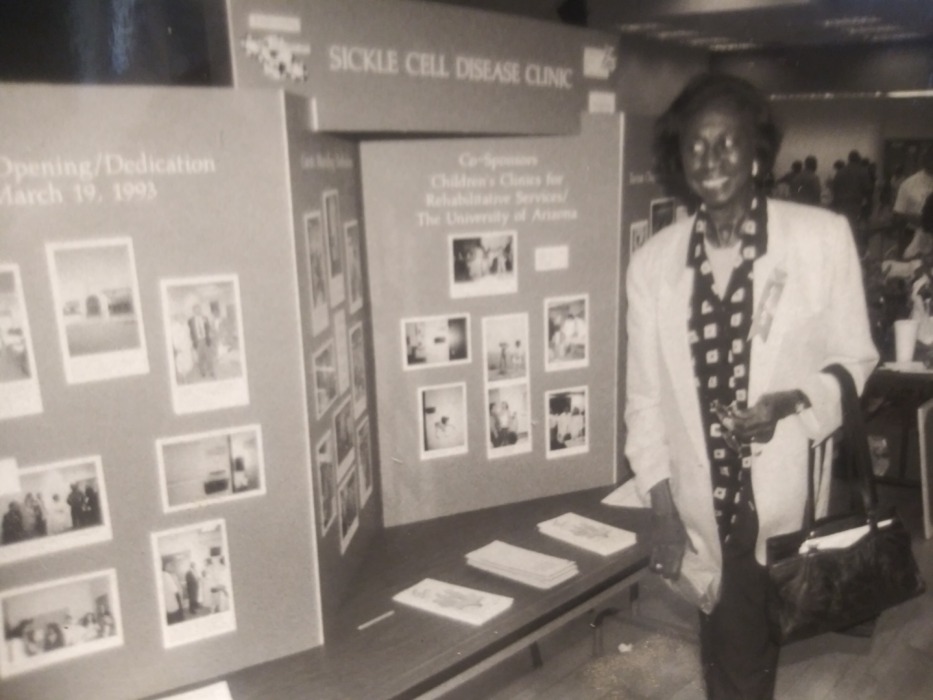 Tucson Black Women's Task Force officers from their 1987 Conference. The Task was formed in 1977 to connect and build a sisterhood of Black women to address issues in and around Southern Arizona, that impacted the Black family, education, employment and social awareness. During their 10th Annual Celebration in 87, the organizations President at that time Doris Williams Snowden, along with board members & conference co-chairs Gwen Adams (2nd left) and Carolyn Ford (right), present to the 87 Woman of the Year Award to Verti Sparks as workshop facilitator and keynote speaker Rasheedah Ali, director of Corporate Communications SW Gas looks on. The current chair of the viable organization is Ms. Annie Sykes who spear headed the organizations successful campaign to pass the Crown Act in Pima County.
Donna Liggins, the former Parks and Recreation Supervisor have been involved in improving and positively promoting the Tucson community for well over 40 years. Active in church, community social and civic events/affairs, the community center formerly known as the Northwest Neighborhood Center now bares Liggin's name —The Donna R. Liggins Recreation Center. A high honor for one who has served on many fronts.
Matriarchs and Patriarchs in the Tucson Community. Mt. Calvary then under the pastoral care of Pastor T.E. Gantt honored those with 50 or more years of membership at the church. Included in the celebration and commemoration with Tucson legends and Hall of Famers. The list included (Ladies first) sitting right – Dr. Laura Noble Banks-Reed. The first person of African descent to rise to the position of Deputy Superintendent in the TUSD. Dr. Laura was home grown. Navigated the often harsh and cruel segregated system and then was a reformer of that system. Members include: Sitting Elsie Hood, Katie Wacker, Monie Bell, Ann Lee, May Wilson and Dr. Banks. Standing Alice Redd, Dorothy Patterson –program coordinator, Willie Fears, Eugenia Wells and Tucson staple Maceo Wells active with the local NAACP and business man. Greats all!!
The Chocolate Dolls! Hostess with the mostess!
The (CDs) were ladies of distinction, known for hosting the classiest social gatherings in Tucson/So AZ from the 80s – 2000. No jeans, t-shirts or cutoffs allowed. One had to dress to impress and leave any negativity at the door, the. CDs were not having it. Once you hit this set it was on. Rita Price, Shirley Hockett, Mary Green, Phyllis and Sister-friends, were the perfect host. Attendance at CD events was by invitation only.
There are a number of dynamic women in Southern Arizona, that have made a positive impact both past and present. Evoking the memory of Tommie Thomas, Marisa Cooksey, Dr. Anna Jolivet, Willie Fears, Jessie Zander, Irene George, Effie Gregory, Karen Culpepper, Wendy Tinsley, Rowena Miller, Ashira, Frieda Baker, Ada Redd , et al.
---
Danny L. White currently lives in Phoenix, AZ. He is the author and creative lead for the Sensational letter "S", a children's book focused on early reading comprehension and word development. He is also a Adjunct faculty member at Maricopa College, and staff reporter for the Arizona Informant. He is an active member of Omega Psi Phi Fraternity, Inc, in Phoenix.