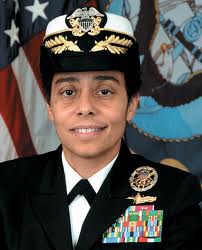 Los Angeles, CA (January 15, 2013) — United States Navy Vice Admiral Michelle Janine Howard will receive the NAACP Chairman's Award during the 44th NAACP Image Awards, broadcast live on Friday, February 1st (8:00-10:00 PM EST) on NBC.
The Chairman's Award, chosen by NAACP Chairman Roslyn M. Brock, is bestowed in recognition of special achievement and distinguished public service. Past honorees include TV One Founder and President Cathy Hughes, US. Surgeon General Dr. Regina Benjamin, Tyler Perry, Former Vice President Al Gore and Dr. Wangari Muta Maathai, Aretha Franklin, Bono, then-Senator Barack Obama, The Dave Matthews Band, and Danny Glover.
"Vice Admiral Howard is an inspiration for me and women of color across our country," stated Roslyn M. Brock, Chairman of the NAACP National Board of Directors. "Her service and achievements as a top-ranking officer in the U.S. Navy have paved the way for girls and young women to know their dreams can become their reality."
"I am sincerely touched and honored that the NAACP would choose to recognize me with the Chairman's Award," stated Vice Admiral Howard.  "I have been privileged to serve with our Nation's sons and daughters who remain my greatest inspiration.  NAACP Image Awards remind us that even when we can't find role models who look like us, television and the movies allow us to dream and believe that anything is possible.  From belief comes faith and from faith the possibilities become real."
Howard, who currently serves as deputy commander for the US Fleet Forces Command, is a 1978 graduate of Gateway High School in Aurora, Colorado.  In 1982, she graduated from the United States Naval Academy and in 1998 from the Army's Command and General Staff with a Masters in Military Arts and Sciences.
Howard's initial sea tours were aboard USS Hunley and USS Lexington.   In 1990, she reported to USS Mount Hood as chief engineer and served in Operations Desert Shield and Desert Storm. By July 1992, Howard had assumed duties as first lieutenant on board the USS Flint.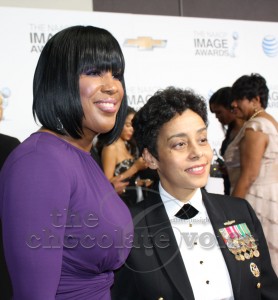 Over the next several years, Howard continued to gain experience and take on leadership roles, and, in January 1996, she became the executive officer of USS Tortuga and deployed to the Adriatic in support of Operation Joint Endeavor, a peacekeeping effort in the former Republic of Yugoslavia.
On March 12, 1999,  Howard became the first African American woman to command a ship in the U.S. Navy.
From May 2004 to September 2005, Howard was the commander of Amphibious Squadron Seven.  Deploying with Expeditionary Strike Group (ESG) 5, operations included tsunami relief efforts in Indonesia and maritime security operations in the North Arabian Gulf.
Vice Admiral Howard is the recipient of several awards for her service.   While serving on board Lexington, she received the secretary of the Navy/Navy League Captain Winifred Collins award in May 1987.  Howard is also the recipient of the 2008 Women of Color Science Technology Engineering and Math (STEM) Career Achievement Award, the 2009 Dominion Power Strong Men and Women Excellence in Leadership Award, and the 2011 USO Military Woman of the Year.
The NAACP Image Awards is the premier multicultural awards show.  It celebrates the accomplishments of people of color in the fields of television, music, literature and film, and also honors individuals or groups who promote social justice through creative endeavors.
Event sponsors include: FedEx, AARP, UAW/Chrysler, Wells Fargo, Ford Motor Company, Anheuser Busch, Hyundai Motors, AT&T, Southwest Airlines and Walgreens.
For all information and latest news, please visit the official NAACP Image Awards website at http://www.naacpimageawards.net.