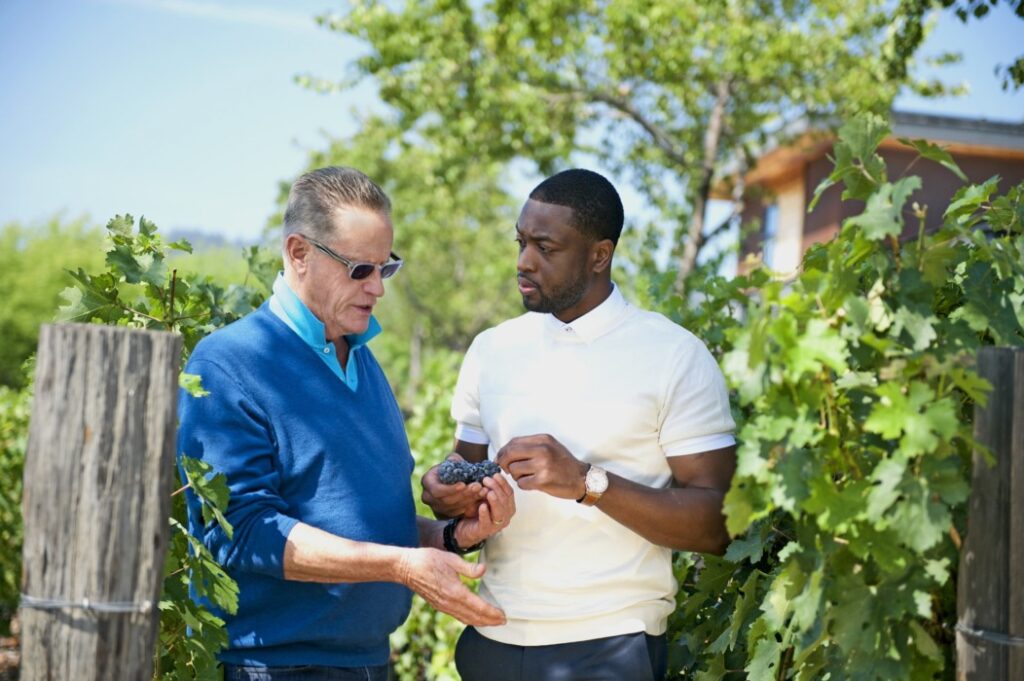 By: Frank Mangio
Sometime during the 2019 season my love of baseball (read Boston Red Sox in last place) sunk into the San Diego sunset just as my love of NBA basketball rose like a fireball when Lebron James came to L.A. to play for the Lakers and San Diego State Alum Kawhi Leonard was starting to do his heroics for San Antonio and later the Toronto Raptors. Quietly, black stars who were making it happen in the NBA were premium wine drinkers who in the off weeks, met around the world's capitals to compare wines and wishes of ownership in Napa Valley vineyards. One of the NBA's brightest stars for fifteen years and a headliner for the Miami Heat and Cleveland Cavaliers was the recently retired Duane Wade.
With a dream of his own winery in Napa Valley firmly in his ambition after basketball, Wade forged a strong friendship with a leading Cabernet Sauvignon winemaker for over 30 years, Jayson Pahlmeyer. The dream turned to reality when, under Pahlmeyer's wing, Wade's passion for fine wine became a reality with Wade Cellars. Something personal and profound in the 38 year old Wade's life was bottled in his first release, a Wade Cellars 2012 Cabernet Sauvignon, launched in Napa Valley in 2015. Now known as the NBA's most prolific wine star, Wade is currently seen daily on social media, hanging out in the world's capitals on a boat or a Parisian bar with basketball star buddies, tasting the latest French classic wines from Bordeaux.
Wade can be seen in Paris, sipping and rapping on Instagram with the likes of current stars Chris Paul, Jimmy Butler, Carmelo Anthony and the King, Lebron James. Several expensive French bottles can be seen, including the current Petrus from The Right Bank of Bordeaux with a price tag of $2,000. each.
Wine Spectator published a recent interview with Wade on how he went from being a wine lover to a wine vintner with the Pahlmeyers. Here is an excerpt.
"It wasn't like I woke up one morning and declared I want to make wine. It kind of organically happened, and I got to meet the right people who urged me to think of it as a business. I didn't want to just lend my name to a big winery. So I went to Napa and talked to some hands-on wineries and fell in love with Jayson Pahlmeyer and his family. We both agreed there was good synergy. This was 2014. A year later I had my own wine, the 2012 Wade Cab."
The latest wine, and Wade's personal favorite is the 2016 Wade Cellars Three by Wade Red Blend for $29.95. This wine is a medium bodied yet flavorful expression of the vintage, which all agree was a banner year at harvest in Napa. Visit at dwadecellars.com.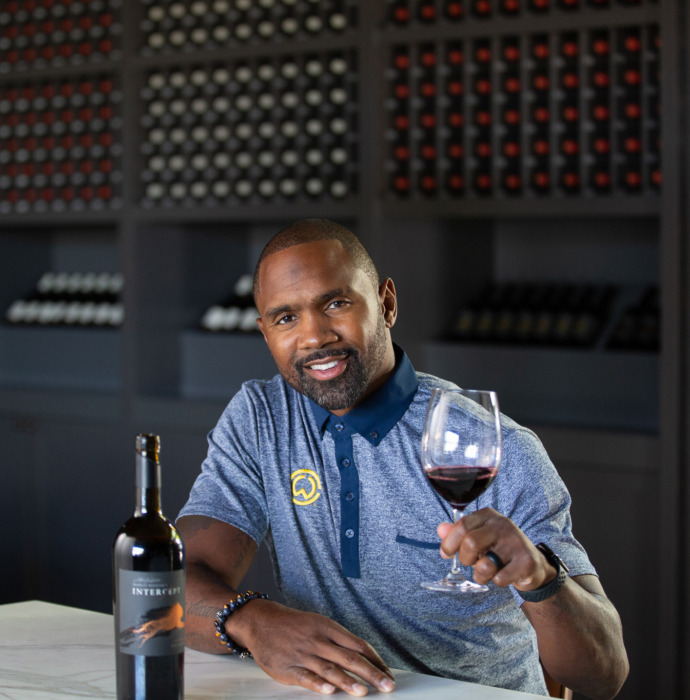 Charles Woodson played for the Oakland Raiders and the Green Bay Packers, and was the only Defensive player in college football to win the Heisman Trophy as the best player in the country.
He also made his first barrel of wine in 2001. In the latest issue of Wine Spectator, the article on Woodson points out that over the past two decades, he founded two wine labels. The first, out of Calistoga in Napa Valley was labeled Twenty Four, his football uniform number.

More recently, Woodson launched his new twenty dollar wine bottle with grapes from the Central California coast labeled Intercept. The label offers a Cabernet Sauvignon, Chardonnay, Red Blend and Pinot Noir. Woodson says, "The greatest reward as a vintner is seeing someone order and enjoy one of my wines." Visit cwinterceptwines.com.
Frank Mangio, Senior Editor Taste of Wine and Food is a renowned San Diego wine connoisseur certified by Wine Spectator. View and link up with his columns at tasteofwineandfood.com.