(San Diego, CA) Saturday, September 26, the National Council of Negro Women San Diego, Inc., hosted its 49th annual community luncheon, Passing the Legacy Forward: Celebrating "Phenomenal Women in Entrepreneurship."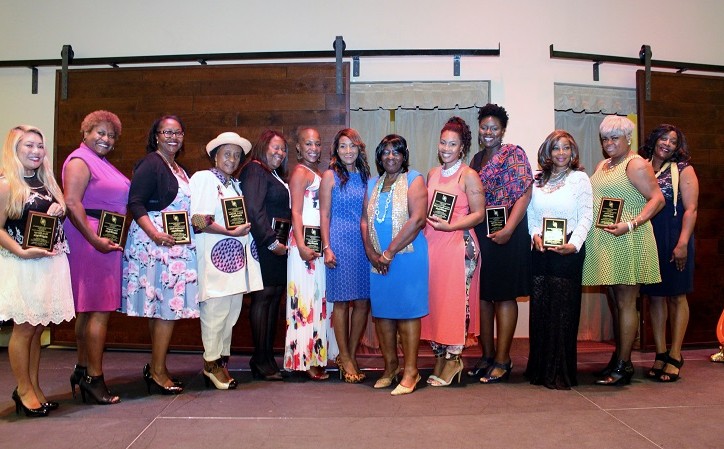 Ten visionaries from the San Diego community were recognized for their outstanding achievements in entrepreneurship.  The 2015 honoree's were: Dr.Vangie Akridge (Psychologist), Mariea Antoinette (Harpist), Dana Bryant (Eleanor's Place for Women, a transitional home for women being released from prison), Jaqueline Cox-Anderson (Real Estate), Tatiana Daniel-Castro (Fashion Designer), Twyla Green (Owner and hair stylist of Studio Twynot), Jennie Hamilton (Co-Founder/Executive Director of Community Actors Theatre), Gwendolyn Pierce (Founder and Publisher of The Chocolate Voice magazine), Gina Surgeon (Founder of Positive FACE) and Marie Zhivago (Professional Cartoonists and, children's book author).
This year's keynote speaker, author Barbara Jo McKinney, J.D., inspired the room filled with professionals from the community, sharing her wisdom that included her journey through continuing her education, becoming a corporate attorney, entrepreneurship and being first lady of St. Stephen's Cathedral Church of God in Christ in San Diego.  McKinney is the author of, When Is The First Lady Ever First (Xulon Press).
Event was held at Jacobs Meetings and Events Center located at Market Creek Plaza. 1st Vice President of NCNW, Inc. Gwenervere Ray and Rosie Iheme served as Chair and Co-chair respectively.
The National Council of Negro Women, Inc. (NCNW) is a nonprofit membership organization founded in 1935 by Mary McLeod Bethune, a child of slave parents, who later went on to become a distinguished educator and government consultant. Her mission was to lead, develop and advocate for women of African descent as they support their families and communities.  NCNW addresses issues of human welfare and rights through public education, community service and advocacy. 
NCNW, Inc., San Diego section's signature program focuses on Science Technology, Engineering and Math (STEM). For more information visit National Council of Negro Women, San Diego.