By D.L. White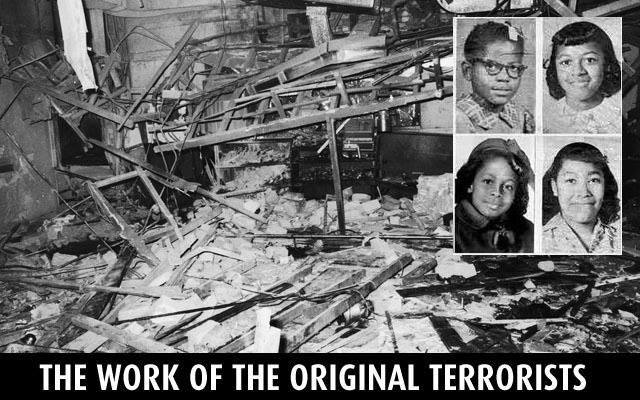 A day that should live for infamy not only in the lives of Americans of African descent, but all Americans who cherish freedom, equal rights and justice for all, is September 15.
"We did not have cell phones, text messaging or the internet back then," noted Arizona State Conference NAACP President Charles Fanniel, "But the message got out quickly for the time.
"Medgar Evers had been gunned down in June (1963) following a successful voting registration drive in rural Mississippi and then this. These events forced the nation to really look at itself. It was time for real change in terms of civil and human rights laws," noted Fanniel.
On a quiet Sunday morning in 1963, the anticipation and excitement for Sunday service was disturbed by the evil forces of domestic terrorism (in the form of the KKK, Jim Crow and the evils of segregation).
The cowardly head or racism struck just prior to church services beginning at the historic 16th Street Baptist Church in Birmingham, Alabama.
Those in the brick church that was built in the late 1800s recall a deafening blast that shook the church and the surrounding area for blocks.
The Church bombing was the third in Birmingham in an 11 day period secondarily to a federal order to integrate the Alabama school system.
Fifteen (15) sticks of dynamite were planted in the church basement, underneath what turned out to be the ladies restroom. The bomb detonated at approximately 10:19 am, killing Addie Mae Collins, Carole Robertson, Cynthia Wesley (all 14 years-of-age) and their 11 year-old-friend Denise McNair.
Alabama's Governor at the time, George Wallace had made preserving racial segregation one of the central goals of his administration, and Birmingham was the home base for one of the most violent and active chapters of the KKK (www.history.com).
Dazed, from the massive explosion, church members wandered about covered in dust, their own blood and with the uncertainty of what had happened and why…….on a Sunday and in God's house?
Members immediately began rendering aide to injured members of the congregation digging through rubble, broken stained glass and brick frantically searching for survivors.
More than 20 members of the congregation were injured from the blast; many thought that was a miracle in itself, that only 20 were injured. Then the reality of the destructive force was learned as the four young girls bodies were found in close proximity to one another.
The girls had arrived at the church earlier for morning Bible School and had gone to the restroom just before Morning Service was to begin.
The Cities African American population planned a protest march and rally at the Church later that evening. Wallace responded by sending in hundreds of police and state troopers to break up the rally.
Two young African American men were killed and the event soon drew an international audience.
Dr. Martin Luther King, Jr., addressed more than 8,000 mourners at the home going services for the young girls. He stated, "The march to justice would not be without victims and martyrs, and that every life in the struggle was known by God, who would help the oppressed to overcome."
In October, 1963, a well-known Klan member and leader, Robert Chambliss, was charged with murder and purchasing 122 sticks of dynamite. Subsequent FBI investigations also identified three other Klan's men as having assisted in the church bombing.
Chambliss was cleared of murder charges and received a six month jail sentence and a $100 dollar fine for unlawful possession of an explosive.
An uninspired J. Edgar Hoover, director of the FBI, was said to have blocked prosecution and eventually shut down the investigation without filing charges in 1968. (However, Hoover did years earlier make the Black Panthers public enemy No. 1, and privately had his agents follow and spy on Dr. King) as noted by history.com/this-day-in-history/four-black-schoolgirls-killed-in-birmingham/.
Just delayed, is still justice!
In 1977, Alabama Attorney General Bill Baxley, reopened the case. Chambliss was convicted later that year and sentenced to life in prison.
The ongoing effort to bring justice to the families of the four young girls and the community as a whole came 37 years later in 2000, when Cherry and Blanton were arrested and charged with four counts of murder.
Cash, the fourth person charged had died in 1994. Blanton was convicted and sentenced to life in prison. Cherry's trial was delayed after judges ruled he was mentally incompetent to stand trial.
The decision was later reversed, on May 22, 2002; Cherry was convicted and sentenced to life in prison as well, bringing justice to the families and those impacted by the bombing, and the tragedy some 54 years earlier.
Writers note: Domestic terrorism is not a new term, unfortunately African Americans in particular, and People of Color in general have been experiencing it for far too long.