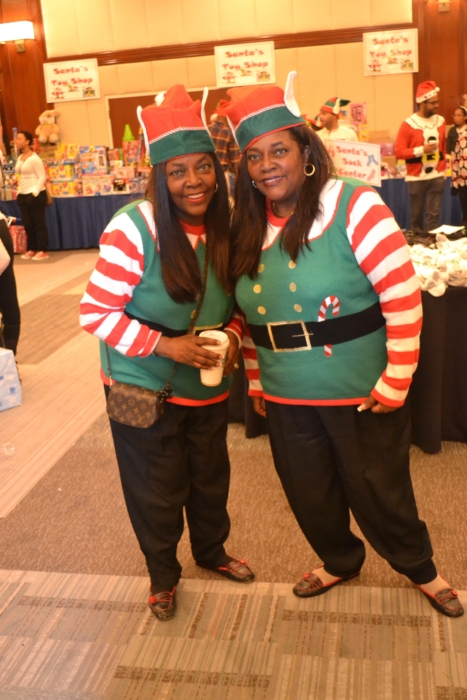 (Long Beach, CA) Identical twin sisters Brenda Wilson and Lynda Moran co-founder's of New Image Emergency Shelter for the homeless, are spreading holiday cheer at the 22nd annual 
Christmas Store in Long Beach!
The holiday giving campaign was held on Sunday, December 18th at The Westin Hotel located at 333. W. Ocean Blvd, will provide food and gifts for over 600 low income families in need, with more than 1500 kids who will benefit from this event.
Over the past 21 years, the New Image Annual Children's Christmas Store program has assisted more than 5,854 homeless and low income families, since 1995; Heads of Households that are mentally challenged; families of domestic violence; and those critically impacted due to the fall in the economy.  All families must have children in their care and have a verifiable income in the range of $221.00 to $1,400.00 per month. Referrals are made to the New Image Corporate Office. Additionally, New Image allocates to local social service agencies a number of families that they can refer to the Christmas Store.  The agencies complete the appropriate documentation and forward it to the New Image Case Management Office for review and follow-up. Once qualified, New Image then assigns the family a "time" to arrive at the Christmas Store and each child must be accompanied by the parent(s). Each child will receive 3-5 toys, a pair of shoes and a photo-op with Santa. 
Every year staff, volunteers and celebrity "Santa's Elves" come out to assist and interact with the children.  Celebrities expected to attend this year are:
 Romeo Miller (Empire), Renee Lawless (Have and Have Nots), Casting Director Leah Daniels-Butler (Empire) and Henry Butler,  Darius McCrary (Family Matters), Kandi Burruss (Atlanta Housewives), Director/Author Matty Rich, Jackie Long (Real Husbands of Hollywood), Wendell James (Raising Whitley), Musical Legend/Author 

 

Charles Wright (Express Yourself) 
Sponsor's of the event include: 
The Westin Long Beach, Wal-Mart, Spark of Love Toy Drive, The Port of Long Beach, Big Sunday, US Army, Best Buy, Big Saver Foods, Vans, Sketchers, Jakks Pacific, Zeenie Dollz, Jivago, Connell Chevrolet, Long Beach Playhouse, LeapFrog/ VTech, Westrup & Associates, Pinelux Associates, Parker Advisors, Mercedes Benz of Long Beach, One West Bank, Planet Hope, International City Bank, Infinite Scope P.R., and more.