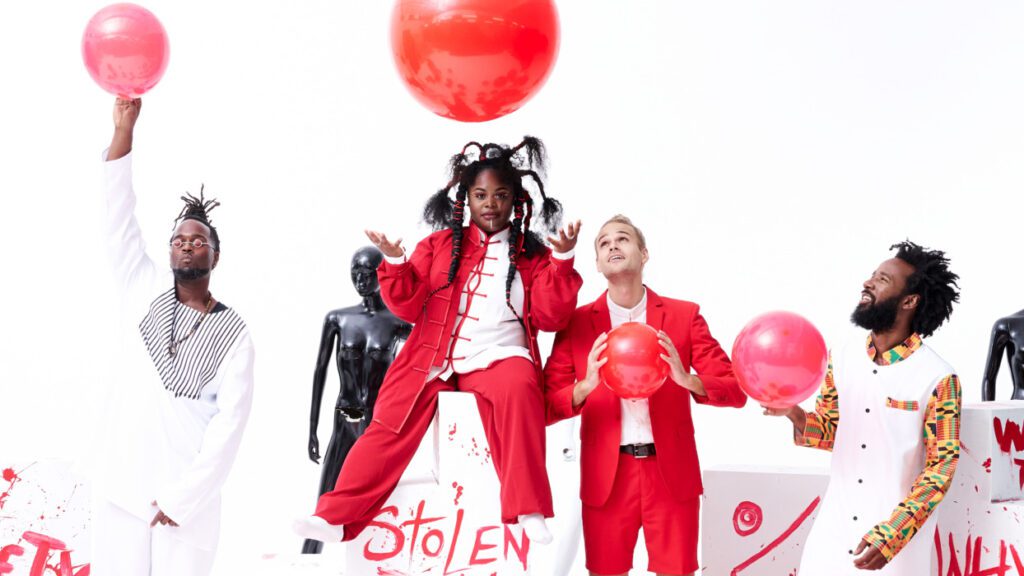 There's definitely a whole vibe when it comes to "Black Folk," the latest song by Best New Artist Grammy nominee Tank and The Bangas, featuring Alex Isley and Masego.
The song poetically rich in powerful lyrics is an ode to what Blackness looks like as Black folk, move about the world through sacrifice and success.
The lyrics that start with "I LOVE Black Folks will keep you grounded, beaming with pride, swaying from side to side, watching a vibe to the true essence of Blackness.
For Black History Month, the critically acclaimed band released their new song, "Black Folk," featuring Alex Isley and Masego on vocals. "Black Folk" is the latest track to be revealed from the band's third studio album, Red Balloon, set for release on May 13 via Verve Forecast.
The New Orleans-based group led by Tarriona "Tank" Ball "Black Folk," says,
"The song is about my love for Black people—everything that they are, everything that they do, their hair, the little girls, Jazzfest. All the beautiful things about us and the things that we like to cover up with pain, laughter, food and music, the family secrets, all of it. The way we look at other Black people that have so-called 'made it,' like Cicely Tyson and Serena Williams and Tyler Perry. It's an ode to Black people."
The entire track is a vibe, with the added superb vocals of artists Alex Isley, and Masego.
Click here to listen.
Quotable Lyrics
Black look like a revolution,
Look like a family reunion, in the park,
Smell Like Good Food,
Sound like a crawfish boil in New Orleans
Feels Like Maze at JazzFest
Looks Like History
Black folks… Joke around like Martin,
And got paintings from JJ in the living room
Tank and the Bangas formed in the early 2010s, when vocalist and poet Tarriona "Tank" Ball (frontwoman, lead vocals) met musicians Norman Spence (keys) and Joshua Johnson (drums) at the New Orleans open-mic night Liberation Lounge; Albert Allenback (alto saxophone, flute) came on later, firming the band's core lineup.

They grinded for years in their hometown, playing local venues like Gasa Gasa and The Blue Nile while also lighting up the New Orleans Jazz & Heritage Festival with their explosive live sets. One local critic called them "untraditional, yet absolutely adherent to the New Orleans heritage of experimentation and invention that pulses through the veins of the city's music" in 2016.

Then came the 2017 Tiny Desk Contest, a nationwide talent competition inspired by the Tiny Desk Concerts beamed out of NPR's offices in Washington, D.C. Tank & the Bangas' entry, an intimate rendition of their song "Quick," delighted the judges, and they beat out more than 6,000 other bands to take that year's title. Their win brought their blend of poetry, R&B, gospel, pop, and whatever else struck their collective fancy to a worldwide stage.

In the past five years, Tank & the Bangas have become widely beloved for their lauded live shows and kitchen-sink approach to making music. They were a Best New Artist nominee at the 2020 Grammys and toured the world extensively, playing major U.S. festivals like Coachella and Bonnaroo. "We've managed to expand our Tiny Desk moment into a lifetime of amazingness," says Tank.

Red Balloon, Tank & the Bangas' third studio album and second major-label release, came out of something rare for the band: a pandemic-ordered break from their rigorous touring schedule. That gave the individual members space to breathe and double down on who they were as artists, and it allowed them to reunite as a more unified group. "We needed a time to be away from the road so that we could cultivate something new, and cultivate who we were," says Tank. The result is a marvelous modern soul album, one led by Tank's commanding vocal presence but also firmly rooted in the musical chemistry conjured by the band being back in the studio and letting the vibes flow.

While guests like Wayne Brady, ?uestlove, Jacob Collier, Lalah Hathaway, Trombone Shorty, and Alex Isley add dimensions to Red Balloon. "This has been one of the best attempts thus far at capturing what happens when we're all playing at the same time," says Albert. Its lyrics run the gamut of human experience, taking on the ills of America while also celebrating the beauty of Black life, reveling in sensuality while also talking frankly of heartbreak. Or, as Norman puts it, "Red Balloon is coming straight for your heart and your neck at the same time."

Tank & The Bangas have been hailed as one of the "best live bands in America" by NPR Music, and with Red Balloon they build on their rapidly growing legacy in exciting ways.
"That's the dope thing," says Norman. "We get to keep on going and riding the wave—and whatever vibe we're feeling, we get to go and create it. Man, it's a blessing."
---
---