11-year FDNY veteran, Danae Mines is one of New York City's few female firefighters. Next March, Mines will become the first featured in the FDNY Calendar of Heroes, even though she was initially told the calendar honor was only for men.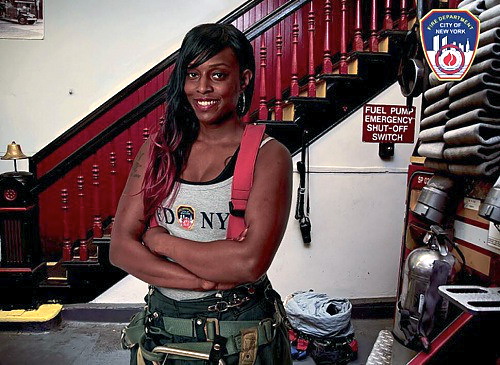 "I was told that it was all guys," Mines, who is assigned to Engine Co. 60 in the South Bronx, told the Daily News.
"They said if I made it in the calendar, I would look like a pinup girl."
But when she saw an open call for FDNY firefighters posted on the wall of her firehouse last year, she decided it was finally time to break down the gender barriers — but on her own terms.
"I wasn't going to let anyone tell me I couldn't do what I wanted to do," she said. "I was determined."
Her dreams of becoming a firefighter began when she was just 10 years old after one of the city's Bravest visited her school to talk about the job.
But her family told her that she should consider another career, because only men joined the FDNY.
"I had absolutely no support from my family when I wanted to come on the job," she said.
Mines became an EMT and, despite her family's requests, accepted a promotion to become a firefighter in 2003. And she hasn't been able to stop her relatives from gloating about her ever since.
"Once I graduated (from the Fire Academy), it was the complete opposite," she said. "They could not stop bragging."
All proceeds from the sale of the $17.95 calendar go directly to the FDNY Foundation to promote fire safety education for residents and provide equipment and training for firefighters.
"I wanted my picture in the calendar so that young girls and young women can see me and know that they can do this job," she said.
Source: New York Daily News, Clutchmagonline.