Roland S. Martin, known for his 'Unapologetic' style journalism, is set to take the world by storm in a groundbreaking urban focused telecast, News One Now. Premiering on November 4, '2013' on TV-One, Martin, will serve as the host and managing editor of the show, doing what he does best: sift through the headlines of the day to spotlight matters that speaks to the African American community.
Martin, the 2013 National Association of Black Journalists' Journalist of the Year and former host of TV One's long-running, award-winning weekly news program, Washington Watch with Roland Martin, promises that audiences will see a different conversation than you'll see elsewhere.
The Chocolate Voice participated in a telemedia conference earlier today,  when Martin explained, "This is the first show of it's kind hosted on a Black cable network. The overall objective is to showcase the expertise and the knowledge, of African Americans."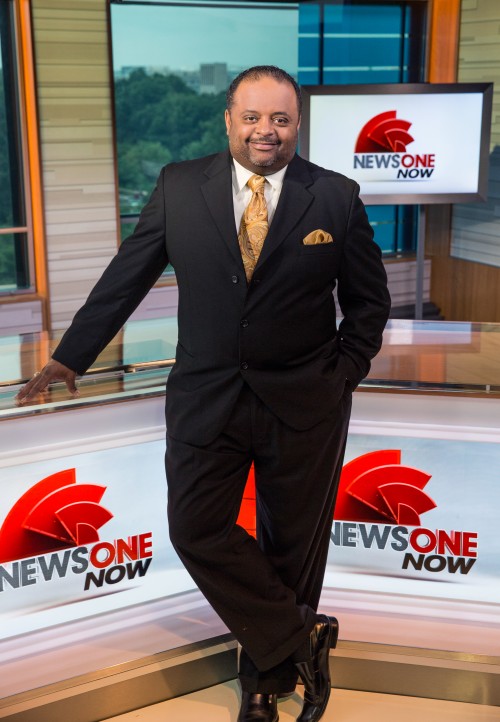 The show will air live 5-days a week mornings, host a three hour per day syndicated radio program, and a third screen that will allow for streaming social media.
Martin reports that, this show is one of the most important things that he's done because of what it means beyond just having a show.
"It's the expansion of a show where Black folks are able to go to have the level of conversations that's needed.  Viewers will have an opportunity to engage in round table discussions where the focal point is black thought, where they have an opportunity to hear and see, the depth and breath of Black America five days per week. We are setting the expansion of a Black news agenda for the course for the day. In doing so, we are serving the consumer in a very unique way." He explains.
Enlisting the help of news makers, media stars, authors, celebrities, filmmakers, comedians and others, News One Now will be a jam-packed, subjective live one-hour weekday morning news program driven by news headlines, on-set panelists, Skype-net interviews, social media integration, standing segments and discussion of the top mainstream media stories of the day, as well as more obscure stories that touch the African American audience nationwide.
"Our program will not only keep Black America abreast of major breaking news and hot-button issues, it will also shed light on peripheral stories that spotlight events and individuals making a concentrated, positive impact in our communities. Our audience can not only expect to be informed, but also enlightened and inspired." Said Martin.
A nationally syndicated columnist with Creators Syndicate and senior analyst for the Tom Joyner Morning Show, Roland S. Martin (www.rolandsmartin.com) is the author of Listening to the Spirit Within: 50 Perspectives on Faith, and Speak, Brother! A Black Man's View of America, and "The First: President Barack Obama's Road to the White House as originally reported by Roland S. Martin."
Launched in January 2004, TV One (www.tvone.tv) serves more than 58.4 million households, offering a broad range of real-life and entertainment-focused original programming, classic series, movies and music designed to entertain, inform and inspire a diverse audience of adult Black viewers.  In December 2008, the company launched TV One High Def, which now serves 14 million households. TV One is owned by Radio One [NASDAQ: ROIA and ROIAK,www.radio–one.com], the largest radio company that primarily targets Black and urban listeners, and Comcast Corporation [NASDAQ: CMCSA, CMCSK), www.comcast.com], one of the nation's leading providers of entertainment, information and communications products and services.