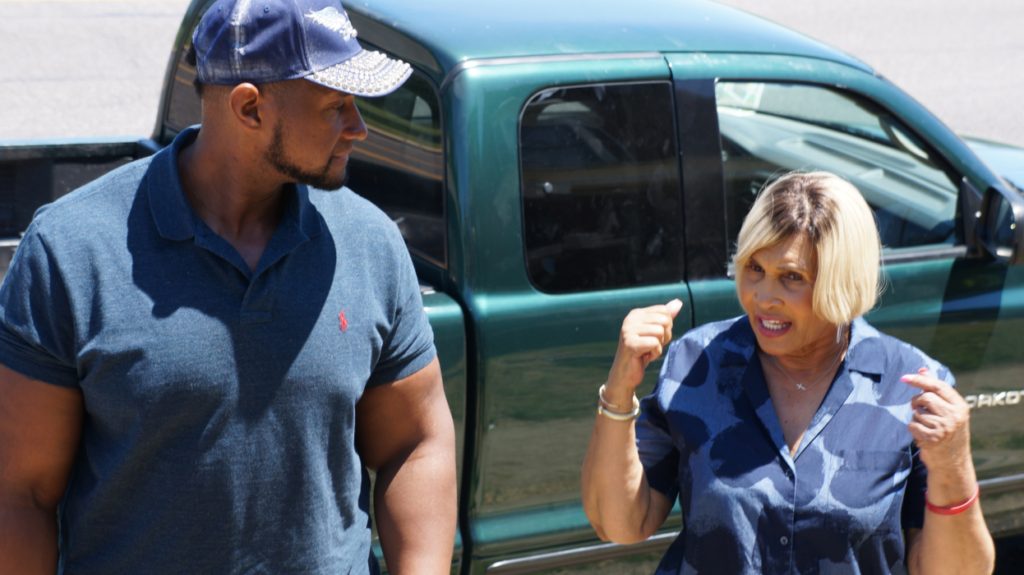 Pictured:  Ms. Robbie tells Tim about the old neighborhood.
Soul food entrepreneur and matriarch Miss Robbie Montgomery, her son Tim Norman and their vibrant family are returning to OWN: Oprah Winfrey Network on Saturday, November 19 at 9 p.m. ET/PT for another family drama-fueled season of the NAACP Image Award-winning docu-series, "Welcome to Sweetie Pie's." Produced by Pilgrim Media Group, the series follows the fun-loving, musical Montgomery family through their highs and lows as they work to expand their soul food empire.
On an all-new season, the family experiences a devastating tragedy when they learn of the senseless murder of Miss Robbie's grandson, Andre, forcing them to reflect on other dark moments from the family's past. Tim also revisits the prison where he was incarcerated for 10 years, and Miss Robbie joins him "behind the wall" to witness first-hand the shocking reality her son experienced at the young age of 17.
Meanwhile, as Miss Robbie and Tim continue to expand the Sweetie Pie's brand, they don't always see eye-to-eye on the best approach. And after 30 years, Miss Robbie revives her music career, this time doing it her way with exciting opportunities on the horizon. As always – amid personal tragedy, legal turmoil and new ventures – the Sweetie Pie's family manages to find strength, love and humor throughout their journey.
"Welcome to Sweetie Pie's" is produced by Pilgrim Media Group.  Executive producers are Craig Piligian, Melodie Calvert, Robbie Montgomery, Tim Norman, Jeff Keane, Tim Breitbach and Steve Luebbert.