Mrs. Obama addresses the importance of the African-American vote in the 2012 presidential election on NewsOne.com, urban digital leader Interactive One's news website
NEW YORK, Oct. 23, 2012 /PRNewswire/ — NewsOne.com, leading urban digital media company Interactive One's African-American news website, published today an exclusive op-ed penned by First Lady Michelle Obama that speaks directly to the country's nearly 39 million Black Americans.  The op-ed addresses the importance of every vote in this November's presidential election and Mrs. Obama encourages those who can, to vote early this year for her husband President Barack Obama.
"Now that so many states have early vote—including Ohio, North Carolina, Nevada, Colorado, Wisconsin,Florida, New Mexico, and Iowa—we can make our voices heard well before Election Day," explains First Lady Michelle Obama. "So, if you live in a state with early voting, pledge to cast your ballot early—and then reach out to everyone you know and make sure they vote by November 6, too."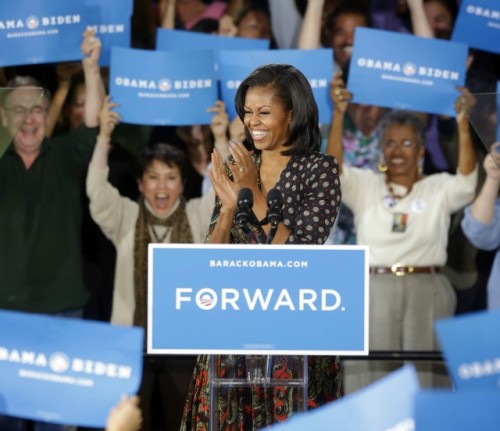 Before reminding voters of the close results of the 2008 presidential election, the first lady recalls the long strides previous generations made to ensure the civil liberties all Americans enjoy today.  She makes clear, however, that it "doesn't mean our work is finished."  Mrs. Obama states, "Make no mistake, here in our time, it's more important than ever that we show up to vote, not just this year, but every year and in every election. Every voice must be heard and every vote must be counted."
Mrs. Obama's op-ed comes on the heels of an exclusive story published by NewsOne on October 11where the first lady addressed issues affecting Black female voters.  In the story she discusses President Obama's latest debate performance, what's at stake in this year's presidential election, and whether the president has the support of Black women.
"NewsOne.com is the definitive source for news most relevant to the African-American community and our recent exclusives with First Lady Michelle Obama demonstrate that fact," said Tom Newman, President, Interactive One. "The importance of Mrs. Obama's message cannot be overstated. All of us at Interactive One eagerly encourage our readers to make their voices heard by voting and encouraging others to vote in next month's election."
To read First Lady Michelle Obama's op-ed, and for more information about NewsOne.com, visit http://newsone.com/2064122/michelle-obama-campaign-2/