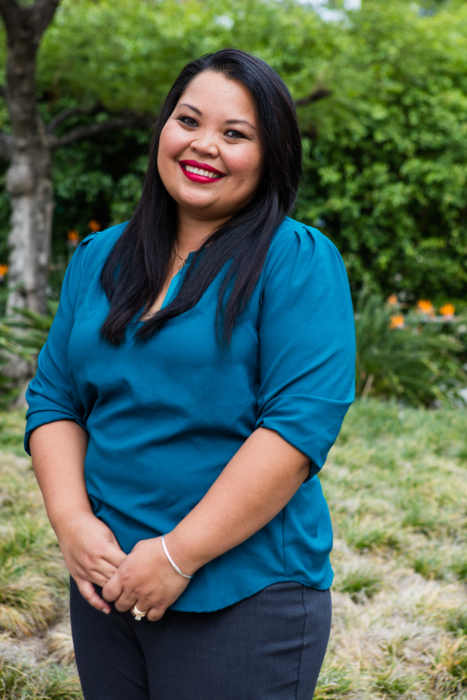 Union Bank and the American Heart Association (AHA) Western States Affiliate announced on December 8, the 14 Heart Heroes who will ride on their float Keep the Beat Alive in the 2017 Rose Parade®  presented by Honda. The premier float features youths who saved lives by administering CPR, as well as the people they saved, and honors the passage of a new California law that will provide CPR training to thousands of high school students each year. The float embodies the parade's theme Echoes of Success, by honoring its teen lifesavers and the future generations of potential lifesavers the new legislation will create.
Celine Showman of Oceanside, CA is one of the 14 honored on the float. CPR saved her life and she is helping spread the word that learning CPR is a critical skill.
Here's Celine's riveting story:
Celine  doesn't remember much of December 2007. For most of the month she was in a medically induced coma so her heart could recover from a cardiac arrest.
A 33-year-old working mom, who was also the PTA president and a Brownie troop co-leader, Celine was perpetually busy. When she developed a bad cold that fall and the doctor suggested she take time off to rest, "I remembered rolling my eyes and thinking I don't have time for that," she said. Her cough continued for months and unbeknownst to her, the virus spread to her heart.
One December night she took her then-eight-year-old daughter Megan out to dinner and a movie. They were sitting in a sushi restaurant.  "All I remember was looking at my phone," Celine explained, "then, according to my daughter, who had to tell me because I can't remember anything from that night – I fell off my barstool."
Part of her chain of survival, Megan called for help and a crowd soon gathered and began dialing 911, but no one did anything for a few minutes.
Then like "superheroes" three Navy Corpsmen from Camp Pendleton appeared, pushing over tables to get to Celine who had begun turning blue. One took Megan away and helped her call her dad. The others got to work with life-saving CPR.
The woman and two men had just returned from a deployment in Iraq and were celebrating. Familiar with intense situations, they sprung to action and saved Celine's life with basic CPR until the paramedics arrived.
"I was super lucky they knew CPR," said Celine. "When they got to me, I did not have a pulse and I wasn't breathing. If they hadn't been there and done CPR, I would not have lived."
Celine now has an ICD (implantable cardioverter defibrillator) to ensure that if she has a cardiac arrest again, her heart will be shocked back to a normal rhythm.
"Every second counts in a situation like this. Because of these three Corpsmen, I get to see my daughter graduate high school. It's truly a blessing. Everyone should know CPR."
The float riders, who come from three different Western states and range in age from 11 to 75 years, will stand on the float's 55-foot long floral piano keyboard and among its four eight-foot tall floral drums and a nine-foot heart-shaped DJ booth. The musical elements represent the beat of the heart and the correct compression rate for CPR administration — a rhythm of 100 beats per minute.
A CPR dance team comprised of 28 local Crenshaw High School and Abraham Lincoln High School students will walk alongside the float and engage the audience with a CPR-inspired dance.
"We are so proud to call attention to these amazing teens and adults who saved a life or have been saved through CPR. The mission of our beautiful float is to spread the word to millions of people that CPR training saves lives," said Pierre P. Habis, head of Union Bank Consumer Banking. "Everyone should learn CPR — as you can see from these inspiring float riders, you never know when you might be called upon to save a life with CPR."
"We encourage everyone to get CPR training — it only takes a few minutes to learn hands-only CPR," Kathy Rogers, Executive Vice President for the American Heart Association Western States Affiliate. "We are so thankful that Union Bank shares our mission to spread the message that CPR is easy to learn and so important. We hope the stories of these courageous teens and survivors will inspire others."
The 14 CPR heroes riding on the float are:
Darian and Eunique Latchison, ages 16 and 12; Irene Sample, age 75, Bakersfield, Calif.  Darian Latchison was desperate to save the life of the woman who rescued him from homelessness and took in his sister at birth. Irene Sample collapsed after walking home in 107-degree heat. Darian's sister Eunique called 911 while Darian performed chest compressions. "I kept thinking 'No, you're not going yet. You have to see me graduate high school,'" Darian said. Irene, who was required as a licensed foster parent to maintain a CPR certification, had brought Darian and Eunique along to her CPR training.
Nathan Boyer, age 14; and Issac Wenrich, age 27, Chandler, Ariz.  Making new friends after his family moved across country was tough for Nathan Boyer, but his baseball coach was always there to give him a pep talk or make him laugh. In March 2016, Nathan and coach Isaac Wenrich were practicing baseball drills when Isaac suddenly slumped to the ground. Nathan began CPR, which he learned as a Boy Scout, and passed Isaac's phone to a bystander to call 911.
Steve and Lewis Griffith, 66 and 15, Forestville, Calif. (Sonoma County) Lewis Griffith was watching TV when he heard a crash and found his father on the floor. Calling to his mom to dial 911, Lewis took his father's pulse and, to his mother's amazement, knew just what to do. Lewis had received CPR training in school three months earlier – he began CPR and continued for five minutes until paramedics arrived to relieve him.
Madi Giese, age 17, Manhattan Beach, Calif. As a young girl collapsed on the tennis court, dozens of onlookers called 911 but  seemed frozen in shock. Madi Giese rushed to the girl's side, performing a dozen chest compressions before the girl coughed and took a breath. Madi had learned CPR through the Junior Lifeguard Program. "Because of my CPR training, I had the confidence to act. I was determined to save her life," Madi said.
  Skylar Berry, age 13, Rio Linda, Calif. When a classmate was pulled from a swimming pool – unresponsive – Skylar Berry went right to work administering CPR, continuing chest compressions for five minutes until an adult could take over. Skylar, then 11, had learned hands-only CPR just three months earlier. A week after the incident, she founded a CPR club at her school to teach others the life-saving skill.
Celine Showman, age 42, Oceanside, Calif. Celine Showman still can't remember the night she took her then eight-year-old daughter Megan out to a sushi restaurant. As her mother slumped off her stool, Megan started her mom's "chain of survival" by calling for help. Three Navy Corpsmen from Camp Pendleton appeared – one took Megan away while the others began CPR. The woman and two men had just returned from a deployment in Iraq.
Melissa Ziebell, age 35, Pasadena, Calif. Nearing the finish line of the Paris Half Marathon, Melissa Ziebell was ready for her souvenir snapshot. The last thing she remembers was her legs giving out. Two young girls trained in CPR came to her aid. An avid athlete, Melissa was diagnosed with a congenital heart defect and underwent open heart surgery. She still wonders what might have happened if she had suffered cardiac arrest while alone on a training run, rather than near volunteers who were trained in life-saving CPR.
For three decades, Union Bank and the American Heart Association have united in the fight against heart disease and stroke, the nation's No. 1 and No. 5 killers of both men and women. Union Bank has been engaged in multiple aspects of the AHA's work, including fundraising, education, volunteer leadership, employee involvement and health messaging. In the last nine years alone, the bank's employees and clients have donated more than $8.6 million in support of the AHA's critical research, education, and prevention programs. 2017 will be the second year that Union Bank has joined with the AHA in presenting a Rose Parade float.
In September 2016, the California State Legislature passed a law that will require hands-only CPR training for a majority of high school students. The bill will create a new generation of potential CPR lifesavers who can make the difference in the few critical moments when a person suffers cardiac arrest. Approximately 90 percent of people who suffer out-of-hospital cardiac arrests die. CPR, especially if performed immediately and effectively, can double or triple a cardiac arrest victim's chance of survival.
To learn more or to get involved, call 1-800-AHA-USA1, visit heart.org.