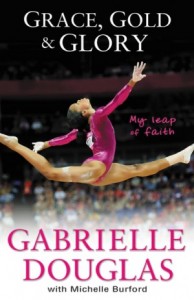 GRAND RAPIDS, Mich., Nov. 30, 2012 /PRNewswire/ — US gymnast and two-time Olympic gold medalist Gabrielle Douglas believes that her own success is directly proportional to the immense support of her family, friends, and faith in God. This theme is at the heart of her debut memoir, Grace, Gold & Glory: My Leap of Faith, coming to bookstores nationwide on Dec. 4, 2012 through the Zondervan division of HarperCollins.
The 16-year-old, who captivated the country at the 2012 London Olympics as she flew high as the All-Around Gold Medal winner, tells her story of faith, perseverance, and determination, demonstrating you can reach your dreams if you let yourself soar.
"Even before I competed in the Olympics, I always wanted to write a book," says Douglas. "Of course, there'll be a lot of stories about gymnastics, but the book will also be about how much my family and I gave overcome during our journey. It hasn't been easy. I want people to read my story and say, 'If Gabby can do it, I can do it, too. Anything is possible.'"
Grace, Gold & Glory, written in collaboration with Michelle Burford, contains a full-color poster and photo inserts, and provides a rare behind-the-scenes glimpse of the Olympic fan favorite. In her memoir, Douglas reveals how her modest upbringing rooted in family and faith has shaped her into the young woman and role model she is today.
The youngest of four siblings, Douglas shares poignant, often humorous stories from her childhood as she talks candidly about the obstacles faced along her road toward the world gymnastics stage. Grace, Gold & Glory offers a firsthand look into the intense training and sacrifice required of this elite athlete and uncovers personal truths for Douglas, such as the bullying and racism she endured as an African-American gymnast, her heartache, isolation, and homesickness, as well as multiple injuries – all of which led Douglas to consider leaving gymnastics forever only seven months before the London Olympics. Douglas also opens up for the first time about her father's role in her life.
About Gabrielle Douglas
Gabrielle Douglas is a two-time Olympic gold medalist. At the 2012 Summer Olympics, she made history, becoming the first US gymnast to take home a team and an individual gold medal in the same games. Gabrielle began her training at age six, and became the Virginia State Champion only two years later. When she was fourteen, she left her family in Virginia Beach to train with coach Liang Chow in Des Moines, Iowa. Under Chow's guidance, and with tremendous faith in God's plan for her, Gabrielle competed in the Olympic Trials and walked away with a victory and the only guaranteed spot on the team. Since her Olympic triumph, Gabrielle has used her platform to inspire millions with a powerful message: With hard work and persistence, any dream is possible (www.gabrielledouglas.com)