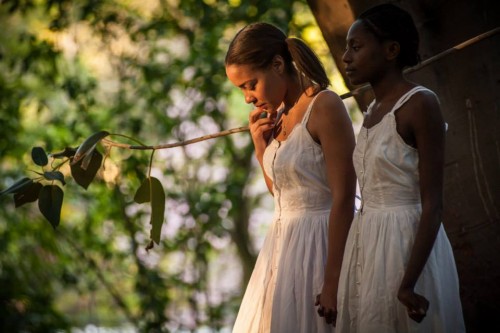 Only Light, a short film written and directed by African American Female Filmakers and, USC grad's Thembi Banks and Evita Castine, wins the Audience Award at the 2015 Diversity in Cannes Film Festival.
Only Light tackles the harrowing topic of the international sex-trafficking industry. The film follows a young girl who is kidnapped from the Democratic Republic of the Congo, sold as a sex worker in the U.S., and escapes her harsh reality by connecting with a girl next door.
The film stars Kennedy Zimet as Laeticia, a young Congolese girl that is kidnapped and sold to an American sex trafficker, Vannie, played by Aaron Spears (Being Mary Jane) who lives in a quaint Southern California neighborhood. While Laeticia is held captive, she discovers a girl her age next door, Zora (Brooke McNeal) and begins to plot her escape.
Diversity in Cannes Short Film Showcase, screens films that address global experiences. This year's showcase paid special homage to the Black Lives Matter movement.
Heralded as "Dazzling" by The Gene Siskel Film Center and casted by Tracy Twinkie Byrd (Fruitvale Station, Black Nativity, and Being Mary Jane), the film was produced by Zac Skipp and Elena Ostromouva and stars Kennedy Zimet, Brooke McNeal, Michael Beach, Aaron Spears, and Michole White.
For more information on the film, please visit: http://onlylightmovie.com/ and check out the trailer here: https://vimeo.com/96930350
For more information about the 2015 Cannes Diversity Showcase: http://bit.ly/1zXiqX9