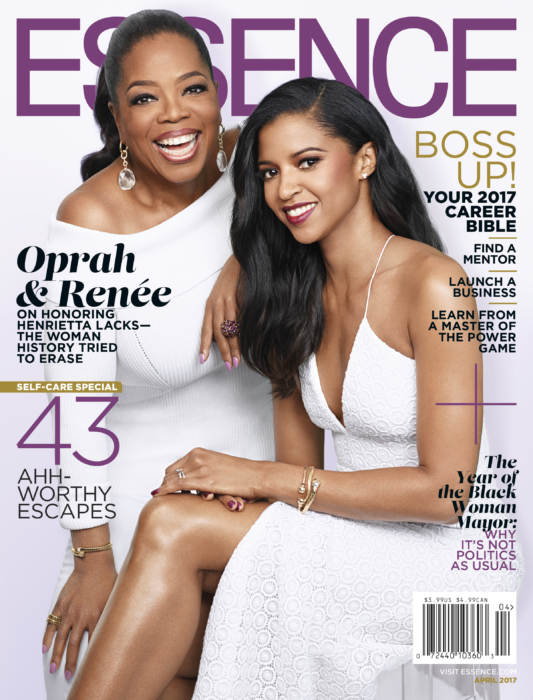 When Oprah Winfrey read how one Black woman's countless contributions to science saved millions, she turned the best-selling book into her next movie.
This month Oprah Winfrey, along with Broadway and TV phenom Renée Elise Goldsberry (who plays the film's title character), star in the unheralded story of The Immortal Life of Henrietta Lacks, airing on HBO April 22nd.
Winfrey plays Deborah Lacks, the daughter who goes on a quest to find out everything she can about her late mother. And Goldsberry plays Henrietta, the woman whose cells pushed science and medicine to new heights.
In Essence's article, Into the Light, both stars talk about the incredible significance of Lacks; whose cells—called HeLa—have been used globally in the development of the polio vaccine as well as treatments for Parkinson's, leukemia, hemophilia and the flu. While vials of the cells by the millions have been reproduced, sold and stored in research labs, most scientists who work with them knew nothing about the woman they'd come from. Until now…
The two women share powerful and insightful quotes and many words wisdom in this issue, that hits newsstands this Friday, March 24.  Below are a couple of our favorites quotes from the article. 
Oprah's Article Quotes:
On How Everything is Connected: 

"I will tell you that I know that all things are connected…I know that the force that is God is also part of every living thing and everything that has also lived…I feel within me and have always felt; from the time I was reciting Sojourner and Margaret Walker and Fannie Lou Hamer, I always felt the spirit of those women abiding in me. The same is true for Henrietta Lacks…"

On the Power of Questioning Authority: 

"I think [this story] will expand the idea of questioning authority, particularly when it comes from the medical field…I thought that, for me, being able to put a light on that was also really very important. I wanted to make a statement about that, through this story…"
Renée Elise Goldsberry's Article Quotes:
On Playing Henrietta Lacks: 

"I love the opportunity to tell stories that people should know. I think it puts what we do as actors on the level of nurses and doctors. It takes us out of this idea of entertainment into an act of service…"

On her youthful look: 

"I don't really have any other secret than just God's grace…I very much believe that health is the strongest and the greatest gift. I have the energy to chase after these dreams…"