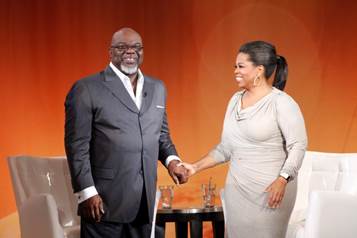 It's T.D. JAKES' biggest week yet. Oprah Winfrey, Tyler Perry and Maria Shriver all sit down with T.D. Jakes NEXT WEEK!
A major influence in Jakes' life, OPRAH WINFREY will sit down for a full hour of T.D. JAKES Thursday, October 27th. As long time collaborators, T.D. Jakes and Oprah will talk about the 30-year anniversary of her signature talk show, the amazing AHA! moments experienced about life's greatest lessons and what's on the horizon for her moving forward.
Also, during the taping of a one-hour, in-depth, sit-down interview with T.D. Jakes on the show, Oprah Winfrey speaks out about the importance of voting and makes a passionate statement about the future of our nation on the eve of the Election in an episode set to air on Thursday, October 27.
Oprah, who endorses Hillary Clinton for President, shares her belief that "There really is no choice! .. Do you like this country? You've got to get out there and vote! Do you like freedom and liberty?"
Leading up to Oprah's appearance, TYLER PERRY will also sit down with Jakes for a full hour – discussing his new film "Boo! A Madea Halloween," the evolution of his infamous Madea character and his personal journey from troubled childhood to media mogul.
Also that week, American treasure and Alzheimer's advocate MARIA SHRIVER visits with Jakes. Maria brings her passion to the Village, to raise awareness of Alzheimer's. New breakthroughs, touching viral videos, revealing "day in the life" stories of families coping with Alzheimer's Disease and advice for how we, as a nation, can hold lawmakers accountable to a cure are all part of this powerful show.
**Tune in to all-new, star-studded episodes starting Monday, October 24th! Please check your local listings. Also available on OWN at 6pm EST / PST. **
Tuesday, October 25th: Tyler Perry
Wednesday, October 26th: Maria Shriver
Thursday, October 27th: Oprah Winfrey