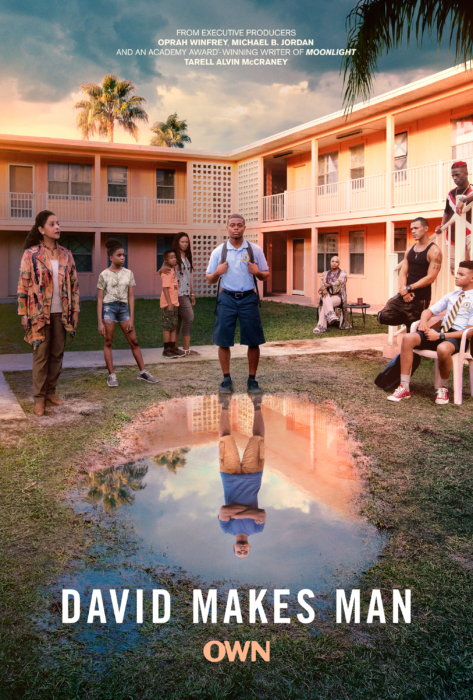 OWN: Oprah Winfrey Network announced today that its anticipated new drama series "David Makes Man" from Academy Award winner Tarell Alvin McCraney ("Moonlight") and Warner Horizon Scripted Television will premiere on Wednesday, August 14 at 10 p.m. ET/PT following the network's critically acclaimed drama "Queen Sugar" (Wednesdays at 9 p.m. ET/PT). The series premiere will be presented by Lexus with limited commercial interruption.
About "David Makes Man"
"David Makes Man" is a one-hour lyrical drama from Academy Award winner Tarell Alvin McCraney ("Moonlight"), his first TV project. McCraney serves as executive producer of the series alongside Dee Harris-Lawrence ("Shots Fired," "Unsolved: The Murders of Tupac and The Notorious B.I.G.") who serves as showrunner. Mike Kelley and Melissa Loy ("Revenge") under their Page Fright production banner, Michael B. Jordan via his Outlier Society Productions and Oprah Winfrey are also executive producers. "David Makes Man" centers on a 14-year-old prodigy from the projects who is haunted by the death of his closest friend and relied on by his hardworking mother to find a way out of poverty. He must choose between the streets that raised him or the higher education that may offer him a way out. Set in South Florida, the series is inspired by events in McCraney's own life and explores childhood trauma and the power of imagination to survive. The drama stars Akili McDowell ("The Astronaut Wives Club") as David, a ferociously observant, instinct-driven, passionate teenager, who toggles between two distinct personas that reflect his surroundings and metabolizes his world like a chameleon, but not without exacting an emotional price; Alana Arenas ("Hall of Passes") plays David's hard-working single mother Gloria, a former drug user with a smile that melts and while rarely home, she wants better for her kids than what they've got.
The series also features Tony winner and Emmy/Golden Globe nominee Ruben Santiago-Hudson ("The Quad," "Billions"), Elvis Nolasco ("American Crime"), Gillian Williams ("The Girlfriend Experience"), Juanita Jennings ("Star"), Liza Colón-Zayas ("Proven Innocent"), Lindsey Blackwell ("Step Sisters"), Lela Rochon ("Training Day") and Nick Creegan, all with recurring roles.
Click Here for the Series' Official Trailer: David Makes Man Trailer