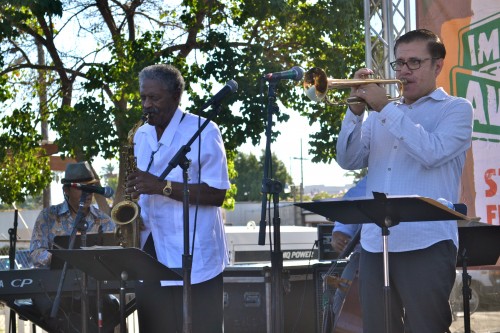 (San Diego, CA) On Saturday, September 20, people from all walks of life came out to the historic Logan Heights neighborhood, for the Imperial Avenue Street Festival.
Only in its first year, the well-attended multicultural street scene was a success.
With a combination of great food, great music, a wide variety of vendors and activities, the festival had something for everyone.  
More importantly, there was great weather considering smoldering hot temperatures over the past few weeks.
Hosted by BAME, Community Development Corporation, the event was held on Imperial Avenue between 29th and 30th, a historic part of town where established businesses, vendors and patrons, lined the streets to showcase products, services and talent. 
The main purpose of the festival was to celebrate San Diego's diversity, through its rich history, arts and culture which stems from the depth of its African-American roots and strong Latino influence.
The festival featured artists across genres – dance, music, and visual arts, whose work contributes to the dynamic blend amongst San Diego's Afro-Latino community.  Among the musical artists in attendance were: The Charles McPherson Quintet, featuring Gilbert Castellaneous, the Johnson Project, King Community Choir, Chocolate Revolution and much more.
If the first festival is any indication, through solid sponsorships, quality vendors and entertainment, it's safe to assume the annual Imperial Avenue Street Festival will be back next year. 
Check out more of our photos below.