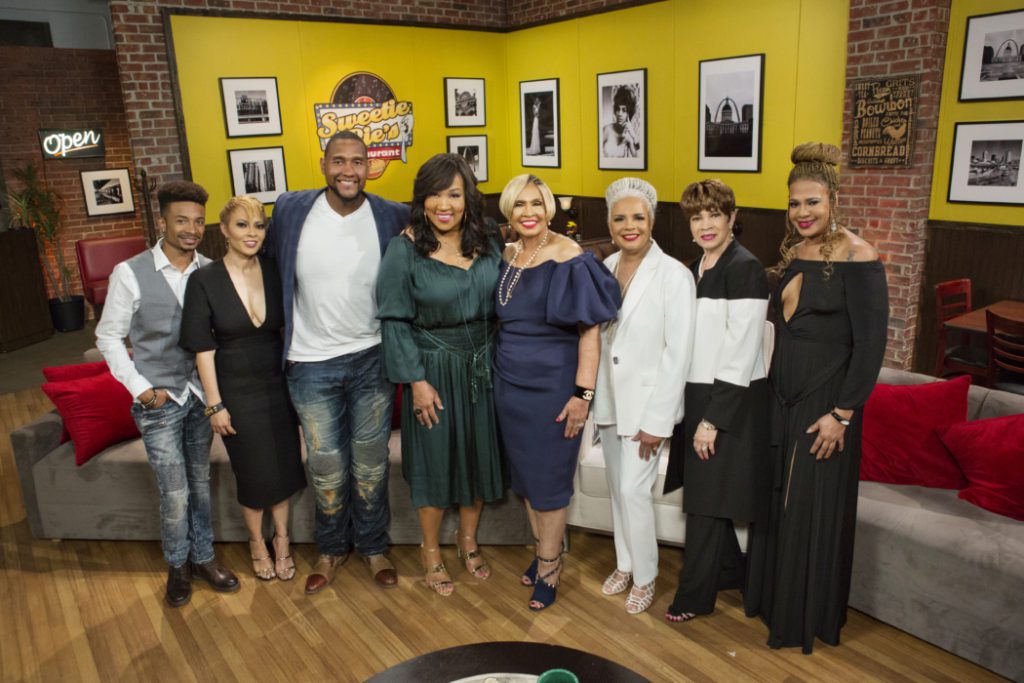 NORTH HOLLYWOOD, CALIFORNIA, USA -MARCH 09 2018: Left to Right: Charles Crenshaw, Monique, Tim Norman, host Kym Whitley, Miss Robbie, Jan, Linda and Michelle on the set of "Welcome To Sweetie Pie's", the series finale in which the cast discusses the series.
LOS ANGELES – OWN: Oprah Winfrey Network announced today its popular long-running docuseries "Welcome to Sweetie Pie's" will premiere its fifth and final season with a special sneak preview on Tuesday, May 1 at 10 p.m. ET/PT (after Tyler Perry's "The Haves and The Have Nots"). The series about the drama that comes with running a family-operated soul food empire, will continue in its regular time slot on Saturdays at 9 p.m. ET/PT beginning Saturday, May 5.
The series, which originally debuted on OWN in October 2011, will celebrate its 100th episode finale on Saturday, June 9 at 9 p.m. ET/PT with a special 60-minute after-show immediately following the finale at 10 p.m. ET/PT. Hosted by comedian/actress Kym Whitley, the special will feature Miss Robbie, Tim, Charles, Monique, Jan, Linda and Cousin Michelle, as they share juicy stories and fun behind-the-scenes moments from the run of the entire series. Nothing in this family is off limits as they dish on the drama between Miss Robbie and Tim, family tensions, what the future holds for the family and more.
"For nearly seven years, our viewers have fallen in love and followed an incredible journey with Miss Robbie, Tim and the whole family," said Erik Logan, president, OWN. "It comes with immense gratitude and appreciation as we send off the series for its final season and make OWN history celebrating 100 memorable episodes."
"Welcome to Sweetie Pie's" ranks as the #2 original Saturday-night series in OWN history among the network's core demo of women 25-54 and in total viewers and was 2017's #2 original cable series on Saturday nights for African American women.
TO VIEW A SPECIAL SNEAK PREVIEW OF THE FINAL SEASON CLICK HERE:
www.WatchOWN.tv/SweetiePiesPromo