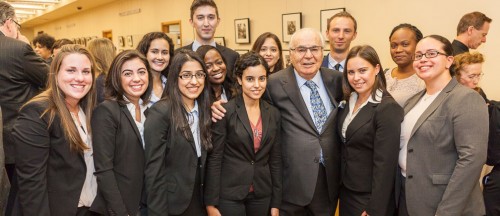 (Brooklyn, NY) On Oct. 15, friends and family of Murray Koppelman '57, along with distinguished guests and members of the Brooklyn College community, gathered in the college's Woody Tanger Auditorium to formally mark the naming of the Murray Koppelman School of Business. Koppelman's generous gift of $12.5 million—the largest single donation in the history of the college—spurred an additional $2.5 million in gifts, made in his honor, from members of the Brooklyn College Foundation Board of Trustees and friends of the college, for a grand total of $15 million in support for the college's School of Business.
"This is the age to not just look at the past, but also a time to peek into the future. To look at a future well beyond my participating in it," said Koppelman, 84. The business executive and philanthropist referred to his own initial poor prospects of ever attending college. "If the Murray Koppelman School of Business means that young men and women whose prospects might have been unlikely, improbable or even impossible have a shot at their dreams, then I can say that I have lived a worthwhile and fulfilling life. And a happy one. Thank you Brooklyn College."
"I want to say how pleased I am to see Murray's name on our business school, because I know how deeply his story will resonate with our students today and those in the future," said Brooklyn College President Karen L. Gould. "I view this as the campaign to recognize a great man, whose tremendous love for the college and its students will forever be marked by the school that bears his name."
School of Business Dean Willie Hopkins spoke of two goals that can now be achieved because of Koppelman's generosity. The first, accreditation by the Association to Advance Collegiate Schools of Business (AACSB), will make the Murray Koppelman School of Business the only accredited business school in Brooklyn, one that will give its students a competitive advantage. "We must also have a vision and a visionary who can see the big picture and the positive impact a great business school can have on industry and society at large. Our visionary is Murray," said Hopkins.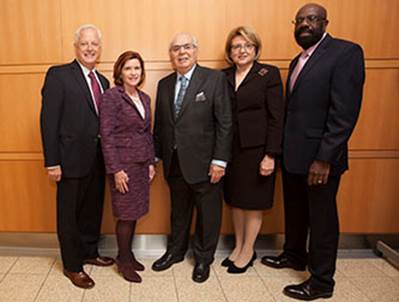 Koppelman was raised in Borough Park, Brooklyn. He entered Brooklyn College after serving in the U.S. Army in the Korean War and received a bachelor's degree in accounting, cum laude. He quickly rose in the fields of finance and banking, serving as managing partner of an accounting firm from 1961–1968 and then as an executive vice-president and chief operating officer of D.H. Blair and Co., Inc. for close to 20 years. He then became president and chief executive officer of the Manhattan-based banking firm Eastlake Securities, Inc. In 2005, Koppelman became the vice president for private client services at J.P. Morgan. He is an avid supporter of a number of philanthropic causes and holds several board seats and distinctions for his commitment to the community and to academia.
The Brooklyn College School of Business was created in 2011 as a reorganization of the college's academic programs into five schools. The Koppelman gift comes at an important time in the college's growth and its impact on the borough.