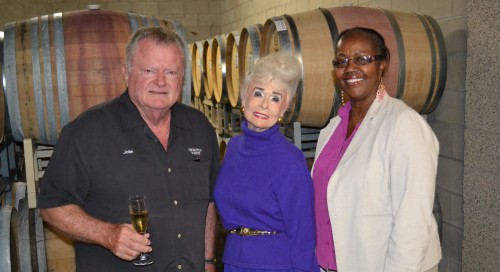 San Diego philanthropist Sally Bullard Thornton, 81, died June 12 at UCSD Medical Center. Thornton reportedly became ill a month ago and had been in a coma since then.
A San Diego native, Thornton was the wife of John Thornton and the mother of two sons, one of whom preceded her in death. Her other son, Steve, is president of Temecula's Thornton Winery, which the family has owned for nearly 30 years.
Thornton spent time in a number of leadership positions amid her work for Children's Hospital and Health Center, United Cerebral Palsy of California, Civic Youth Orchestra, San Diego Opera, San Diego County Heart Association and the San Diego Museum of Art.
More than 30 years ago, she formed and was president of The John M. and Sally B. Thornton Foundation. The foundation was a major contributor to a new teaching hospital at UCSD. A $5 million donation by Sally and her husband 25 years ago paved the way for the naming of UCSD's Thornton Hospital.
Thornton Winery in Temecula known for producing award-winning and premium wine, hosts a successful summer Champagne Jazz Series jazz concert series. Sally, John and Steve attend every event and greet guests. Sally takes great pride in personally introducing the artists before each concert.
Rest in peace, Sally Thornton.