By DL White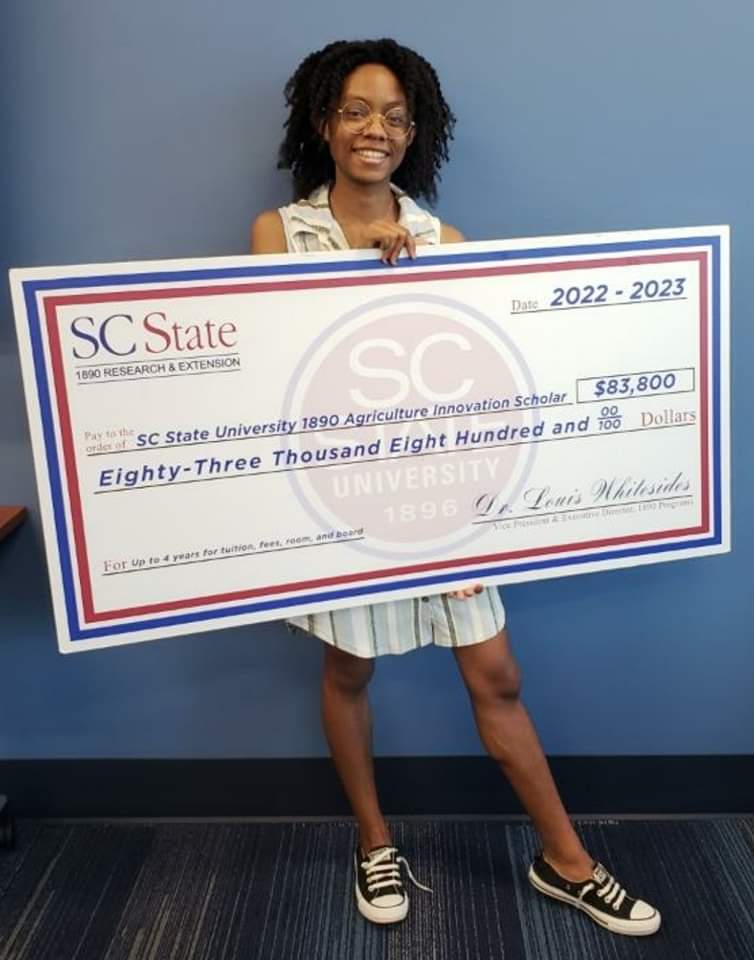 Danielle N. Dickey is a well traveled and equally a well versed young lady, she and her family have visited (44) of the (50) states in the U.S., however, she has selected South Carolina and South Carolina State University to attend college and spend the next four years.
Danielle, a product of homeschooling, was recently awarded a full scholarship to attend South Carolina State University, her father's (Warren Dickey's) alma mater; she will matriculate in the fall. She earned (28) college credits before completing her high school diploma.It has been a positive and productive year for the talented young lady who enjoys drawing and writing, as demonstrated by her winning the local and regional essay contest with her entry in the Phi Iota Chapter, and 12th District Annual Essay contest of the Omega Psi Phi Fraternity, Inc. Danielle credits her entrepreneurial parents and her grandparents for providing the positive image of owning and operating a business. Her mother (Kimberly) was her home-school instructor and from all indications – did an excellent job.
"My opinions were influenced by my parents and grandparents and their legacy of being business owners," shared Danielle, who also enjoys history and social sciences.
"I enjoy learning about people and cultures around the world, it interest and intrigues me. I also enjoy books and I do fairly well with children and adults," noted Danielle.
The oldest of two (she has a younger brother age 15); Danielle entertained offers from Kentucky State University, Arizona State University, Benedict College, Morris College and Chaflin University before saying yes to SCSU.
Library science is an academic discipline that is often referred to as "information studies." The field focuses on how to classify and use data or objects and emphasize the importance of preserving knowledge and promoting literacy.
Julie Peters, the director of the James B. Carey Library in the Rutgers School of Management and Labor Relations in New Jersey, offers, "Librarianship is a timeless and meaningful profession.
"LS is a field that is constantly changing and evolving, as technology creates new strategies for sharing, managing and organizing information.
Laura Robinson, the University Librarian at Clark University in Massachusetts, noted "Library Science can lead to an enjoyable career path.
Notable: The U.S. Bureau of Labor Statistics project the number of librarians and library media specialist employed in 2029 will be 5% higher than it was in 2019, which is slightly above the average predicted job growth rate for all U.S. occupations within that time frame.
Lorraine Hansberry, the exceptionally talented and gifted playwright, the first African American woman to have a play performed on Broadway with "A Raisin in the Sun (1959)," must have been envisioning an individual very similar to Danielle N. Dickey, when she began compiling the ingredients for "To Be Young, Gifted and Black."
Hansberry who was only 35 at the time she succumbed to cancer and did not complete the manuscript however, she had instilled enough of her insight, wisdom, and bravado into the manuscript; it was only a small walk to the publisher.
Just as Hansberry was committed and understood the power of the pen, young Miss Dickey understand the power of knowledge and how to pursue, research and organize (catalogue) knowledge, she plans to utilize her insatiable quest for knowledge to assist and empower others likewise.
Good luck Miss Dickey, enjoy the journey!