(Los Angeles, CA) We know the Empire season finale was on, but in case you missed it, last night's episode of TV Lands, "The Soul Man" starring Cedric The Entertainer, who is also one of the shows creators, Niecy Nash, John Beasley and Wesley Jonathan, was one huge ball of laughs.
In it's fourth season which aired live, on Wednesday, March 18, Sherry Shepherd returns to the show as, Rev. Boyce (Cedric) "The Voice" Ballantine's cousin Nikki, who causes complete and utter chaos for the Ballentine Family.   Also making a guest appearance on the show, was the audacious Uber driver, played by the hilarious J.B. Smoove (Real "Husbands of Hollywood" and "Curb Your Enthusiasm.")
Riding high on the success of the show, thechocolatevoice was on the set along with members of the cast, crew, friends and family to celebrate in a cozy, swanky VIP private party on CBS studio's lot 23. 
Check out who we "The Chocolate Voice" caught up with after the show.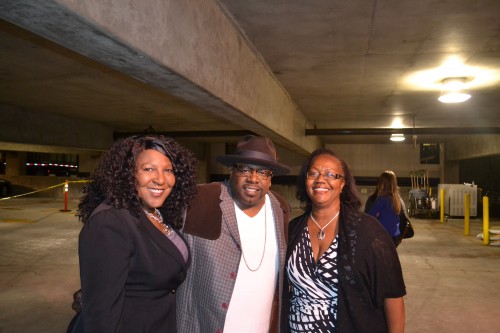 Also pictured: The Chocolate Voice Gwen Pierce, (R) and Stephanie Ringgold (L)