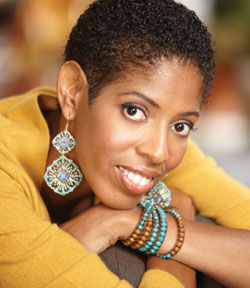 Alicia Keys Brings Stick Fly to Broadway!
On February 24 through March 20th, 2011 the MO`OLELO Performing Arts Company in San Diego staged Stick Fly by Lydia R. Diamond, a comedy drama that looks at a wealthy African American Family on Martha's Vineyard (which African Americans has had a long time presence since colonial days) and how interracial romance, parental relationships and issues of class and race are explored.
 The Chocolate Voice with great excitement had the opportunity to interview the acclaimed Boston playwright from her home by phone. At the very start of our conversation, the incredibly talented Detroit native made sure that before we began, there was one urgent matter that needed her undivided attention and, that was to locate the channel that hosts the PBS children's program Zaboomafoo for her young son.
A graduate of Northwestern University, Diamond is a Huntington Playwright Fellow and Professor of Playwriting at Boston University. She has taught playwriting at Columbia College Chicago, DePaul University and Loyola University. She has written Stage Black, The Gift Horse, Voyeurs et Venus and Harriet Jacobs.
Diamond discusses her life as a playwright and where she draws inspiration from for developing characters.
TCV: What challenges have you faced as a black female playwright?
LD: I've been really, really lucky in my career. I've worked hard, I went to school, I did all that stuff. I guess the challenges that I've faced are the challenges we all face in any industry. There's a small space for a few of us, and you have to work extra hard to make a place for yourself. I think theatre is kind of a difficult terrain because it also doesn't always have to do with how hard you work and how talented you are in terms of breaking through. I think there's an element of the planets aligning, and so I've been fortunate enough that my hard work and my talent has been noticed by people who have been able to help push my career along, and have been able to help mentor me.
TCV-Emily: What piece of advice would you give to a young person who desires to make a living as a writer?
LD: I would tell them that they are doing exactly the right thing, because I did that. I was one of the theatre, kind of, theatre kids before shows like Glee made it a kind of popular thing to be, and I worked really, really hard and we stayed up until one o'clock in the morning painting the sets, and scrounging through flea markets for pieces and props for the play and all that stuff. I would tell them to get good grades in their other classes because even for theatre you have to have that to get into the best theatre schools. I would tell them to get training, go to school and major in whatever, and take theatre classes, or if they're really wanting to do it for their life's work to go to a theatre school or a school that has a theatre major. I think it's really important to get your training.
Check out the interview in it's entirety in the March 2011 issue of The Chocolate Voice.
Stick Fly will premiere in the fall on Broadway produced by Grammy winning recording star Alicia Keys.
Notable cast includes; Mekhi Phifer, Dule Hill and Condola Rashad (of the Broadway production of the Pulitzer prize winning "Ruined").