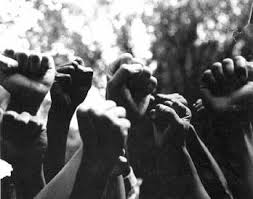 Colossal fires of hatred and the sound of our liberty is extinguished with our resolve of life.
Don't look upon me and see the phantom of darkness residing within your culture of righteousness.
The afflictions of your ancestors that have been embedded in the tumors of your spirit have called for my death.
Courage's smile of unspoken languages and we cry out for our seeds to be exonerated from the hell of love.
Surpassing the time with our gifts and talents we walk the graves with songs of "Highway to Heaven".
Standing proud and black, we encounter our destiny with your history of euphemism for our lives.
With the shouts of liberty and peace, your anthem becomes white nights of black blood.
Your truth and lies were kissing our flesh with gauntlets of persuasions known as terror from within.
Disguised in the prowess of your seduction we encamp the night air with fears of being seen after dark.
Armed with the sanity of our beliefs, your sermon of freedom escapes our dreams and we are your stumbling blocks.
Dazed and full of your iniquity, the dam of our emotions erupts and we cry out "Black Lives Matter". 
Our creator said for I am fearfully and wonderfully made; slaughters of nightfall reigned upon us.
Hearing the fear of your hearts we escape in the Underground Railroad that trained our survival.
Articulate in higher learning, the horizon of our knowledge submerges your equation of our censorship.
Grieved with holistic crowns of your demeanor, we cry out and the Phoenix of our turbulence explodes.
Singing from the outer limits of our minds "Say It Loud, I AM BLACK and I AM PROUD."
Written by Theodore Mosley