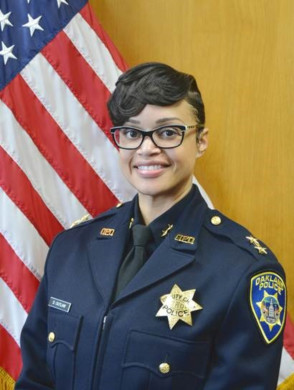 PORTLAND, OR — Mayor Ted Wheeler on Monday announced he'd selected Danielle Outlaw as the city's new chief of police. Outlaw, a 19-year veteran of the Oakland Police Department, will be the first black female police chief in the city of Portland. Outlaw is expected to take over for Chief Mike Marshman no later than Oct. 2.
With Portland's history of  sanctioned systemic racism with legally enforced exclusionary practices," according to the police chief job posting on the city's website,  Wheeler previously made clear his intention to change the course of Portland's — and perhaps Oregon's — history of racism, and this appears to be the first step.
Outlaw has been with the Oakland Police Department (OPD) for her entire career in law enforcement, beginning in 1997 as an Oakland Police Explorer while still a student at Holy Names High School. Since that time, Outlaw has worked numerous positions in numerous divisions throughout the department, including patrol and community services, internal affairs, public information, and for the Office of Chief of Police.
Outlaw is currently deputy chief for the OPD — a position she's held since 2013, and a position for which only two women have historically been selected.
"My life's passion is policing. I want to make a positive difference in the lives of my fellow officers and the residents of the community," Outlaw said in the statement. "Portland is an amazing city. I am humbled by the tremendous opportunity in front of me, and am ready to get to get to work."
Outlaw, who said she plans to live in Portland when she takes over as chief, will now have to wait for Oregon State Police to conduct a background check, which could take four to six weeks, officials said.
---