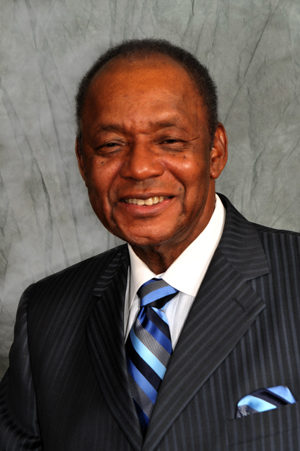 The NAACP announced today that prominent labor union organizer and leader William Lucy will be honored with the prestigious NAACP prominent labor union Chairman's Award which is bestowed in recognition of individuals who demonstrate exemplary public service and use their distinct platforms to create agents of change. Leon W. Russell, Chairman of the NAACP National Board of Directors, will present Lucy with the award at the 49th NAACP Image Awards on Monday, January 15, 2018 live at 9pm/8c on TV One.
Mr. Lucy will receive this honor in recognition of his role in the labor movement and his accomplishments as a labor organizer and justice advocate. His work with Dr. Martin Luther King, Jr. during the 1968 Memphis sanitation strike and the instrumental role he played in the anti-apartheid movement  — which helped free Nelson Mandela and led to the first democratic elections in South Africa – exemplify Mr. Lucy's impact on the civil and human rights movement in the U.S. and around the world.
"I am personally inspired by William Lucy's activism on a number of civil and human rights issues, and particularly, that he has not forgotten what it is like to be a person of color in America," stated Leon W. Russell, Chairman of the NAACP National Board of Directors. "In honoring him, we will remind the American public not only of his role in the labor movement and his endeavors on economic issues, but also of his distinguished community service and charitable efforts."
For over four decades, William Lucy has been at the forefront of the labor movement in America and around the world. As International Secretary-Treasurer of the American Federation of State County and Municipal Employees (AFSCME) for nearly 40 years, Lucy helped the union grow from 200,000 to over 1.4 million members in 3,500 local unions nationwide. He also helped define the role of African Americans in the labor unions when he co-founded the Coalition of Black Trade Unionists (CBTU) in 1972. Along the way, he stood alongside Dr. Martin Luther King Jr. through civil rights struggles and Nelson Mandela in opposition to apartheid. Mr. Lucy co-founded the Free South Africa Movement, a grassroots campaign that sparked widespread opposition to apartheid across the United States.
After the release of Nelson Mandela – the South African leader who had been imprisoned by the apartheid government for 27 years – Mr. Lucy led a fundraising effort to bring Mr. Mandela on a United States tour. Four years later, when South Africa held its first post-apartheid elections, Mr. Lucy traveled there as part of an AFL-CIO monitoring delegation. After twenty years of fighting apartheid, Mr. Lucy was present when Nelson Mandela was elected the first black president of South Africa.
TWO-HOUR SPECIAL WILL BE HOSTED BY ANTHONY ANDERSON AIRING LIVE ON TV ONE MARTIN LUTHER KING, JR. HOLIDAY MONDAY, JANUARY 15, 2018.