On August 26, NBC premiere's The Carmichael Show–a witty and engaging new sitcom based on the life and comedy of writer Jerrod Carmichael.
The series which stars the creator and executive producer of the show, 27-year old Carmichael, along with the hilarious David Alan Grier (In Living Color) and, the multi-award winning film and television actress Loretta Devine, centers on humorous family conversations, dealing with currently trending hot button topics that promises to have America 'rollin' with laughter.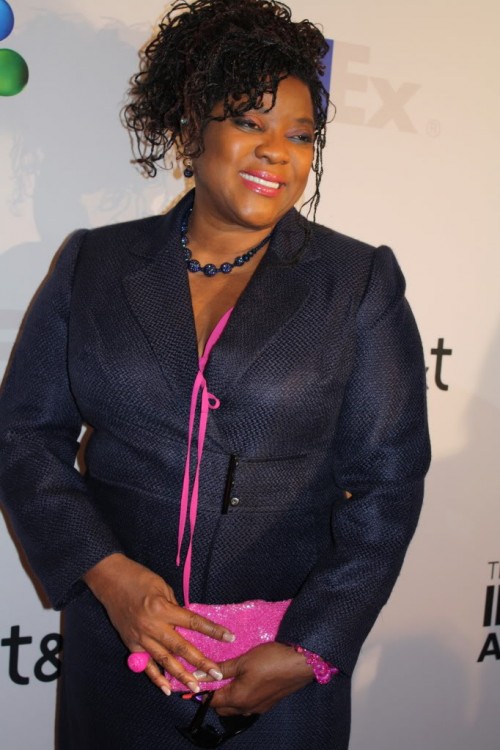 The bubbly, Emmy-award winner and seven time NAACP Image Award winning actress, plays the role of an opinionated Cynthia, the over the top religious mother of Jerrod, opposite funnyman Grier who plays Cynthia's outspoken husband Joe. Devine, has played everybody's mama from Idris Elba to Taraji P. Henson, is excited to be working on television surrounded by cast members, who joke around constantly.
Rounding out The Carmichael Show cast are standup comedian Lil Rel Howery and actress Amber Stevens-West (Greek), playing the brother and girlfriend respectively. Also be sure to watch out for break out comic Tiffany Haddish an unforgettable newcomer who play's Lil Rel's girlfriend.
In an energetic and candid conversation with The Chocolate Voice, on the eve of her birthday the distinctively sweet voiced Devine, reflects on her blessings and excitement about her latest television role on The Carmichael Show.
TCV: I read that tomorrow is your birthday. Happy birthday! How do you plan to celebrate?
Loretta Devine: Don't you dare ask me my age, I'm gonna lie (Laughs). My husband is taking me out of town for a few days! I can't wait!
TCV: Congratulations on The Carmichael Show!
Loretta Devine: People are gonna either love the show or hate it. I'm hoping that there gonna love it. It's funny, fresh and current. I'm so excited!
TCV: It's been described as the modern day "All in the Family." How so?
Loretta Devine: It's very current. We filmed very close to air dates, so that we could touch on things that are happening right now.
TCV: What was the main draw for you to work in a sitcom?
Loretta Devine: I had to audition. I went in two to three times to read for the part. The draw was that I got it! They put David Alan Grier and I together to see if our chemistry worked. Well, it worked out and then he started telling everyone that he got hired first, but, I got hired first. But, that's Davey. (Laughs)
TCV: How fun is it working with your old friend, David Alan Grier?
Loretta Devine: We've been friends since we were baby's. When I first moved out to L.A. we worked together on "Different World." So we've worked together off and on through the year's, but this is the first time in a good twenty years. It's hard though. He's such a primadonna (Bursts into laughter). He has to have his way. He just got cast as the Lion in The Wiz, and he's bragging every minute. (Laughs). The other thing is that, there are so many other comedians on the show. There are jokes all the time on the set.
TCV: How do you get any work done?
Loretta Devine: Jerrod is so young and strict, but he cracks the whip when he has to.
TCV: America has seen you play the role of mom's quite often. What was it about the character Cynthia that struck a chord with you?
Loretta Devine: Cynthia is a very religious woman who's very caring towards her family, and, she loves her husband. This show has all of the things that are a good portrayal for America to see; An older couple that is still loving, young Black men who are going about giving everyday in a world that's so controversial. People are going to have a lot to think, and laugh about. I'm really enjoying playing this character!
TCV: From what I understand, the show is based on Jerrod Carmichael's family. Do you find that there are any similarities with your own family?
Loretta Devine: Yes. Because it has a southern feel to it and, the fact that the mom is religious. Although, it can be any family, whether it's Black, White or Asian. It's all about raising kids, loving each other and dealing with problems of the world today. We touch on gun protests, what foods to eat, and gender. I think people are really going to enjoy how we open up conversations that can take place in their own family.
TCV: Speaking of family, share how growing up in Houston had an impact on your development as an actor.
Loretta Devine: I grew up around mostly women–Aunt's, sister's, grandmother's, mother's and an extended family with uncles. It's amazing how a lot of times when you do a character, you can almost see someone from your family that the character relates to. It was so much easier with this role, because I met Jerrods mom, and he talks about her a lot. So, some of the lines that are written in the script are actually something I'm sure that he's heard her say. Everything is rooted in something that's very family to everybody, including myself.
TCV: I read that you career started off with you directing. Did you direct any episodes of The Carmichael Show?
Loretta Devine: I've never directed television or film. I think what you read is that, I was director for the Theatre department for the Black Arts Center in Houston, when I first started out before going to graduate school. I haven't done much directing since then, and I don't think I'll be doing any because, I would have to go back to school. I don't know about just jumping up and directing stuff. I know some people do it, but it just seems crazy to me! I'm going to stick to being an actor and see how this works out.(Laughs)
TCV: Your distinct sweet voice is a brand in itself. I recognize it as Nurse Hallie on Doc McStuffins, which my granddaughter loves. Would you say "your sweet voice," has helped your career?
Loretta: Oh, thank-you! I'm so honored that all the five year old's think I'm a purple hippo! When they hear me out in public they say, "Oh my God mom, that's the purple hippo! It's like being introduced to a whole new generation of fans. As for my voice, I really think the reason I get to play mother roles is because of my voice. I sound like my own mother. I've been so blessed.
TCV: Please share your thoughts on why today, we are seeing more Black actor's on major television networks?
Loretta Devine: You know, they're calling it the "Empire" effect because "Empire" the television drama on Fox was so successful with 22 million viewers, causing more doors to open for Black actors. Not just that, Shonda Rhimes has created some of the most remarkable shows with, How to Get Away With Murder, Scandal and Grey's Anatomy, which I was on for seven years. All of this adds to what's happening right now. It's like if something works, everyone wants to try and get in. Sort of like throwing paint against a wall. Everybody is getting a chance to do some interesting things right now. I just hope it continues. Adding to that, the most successful shows on television today are headed by Black women–Kerry Washington, Viola Davis and Taraji P. Henson, by the way most of which have played my children! I'm everybody's mama– Idris Elba. When some of my girlfriends try to date him, I say, "You better leave my son alone." (Laughs)
TCV: What can audiences get excited about by watching The Carmichael Show?
Loretta Devine: The world's gonna love it. It's very funny! You're going to fall in love with Jerrod and Amber. Amber is gorgeous and Jerrod is straight faced but, he causes chaos in every household that he goes into. David Allen Grier and myself, are masters of comedy. It's going to be a great experience for everyone! Oh, and I can't forget stand-up comedian Tiffany Haddish. This is her big breakout role and she is hilarious and unforgettable! She plays the girlfriend to the 2nd son, Lil Rel.
TCV: We'll be watching. Thank you for sharing, and have a great birthday week-end!
Loretta Devine: Thank you! Have a great week-end!
THE CARMICHAEL SHOW
SERIES PREMIERE AUGUST 26 | WEDNESDAYS 9/8c on NBC