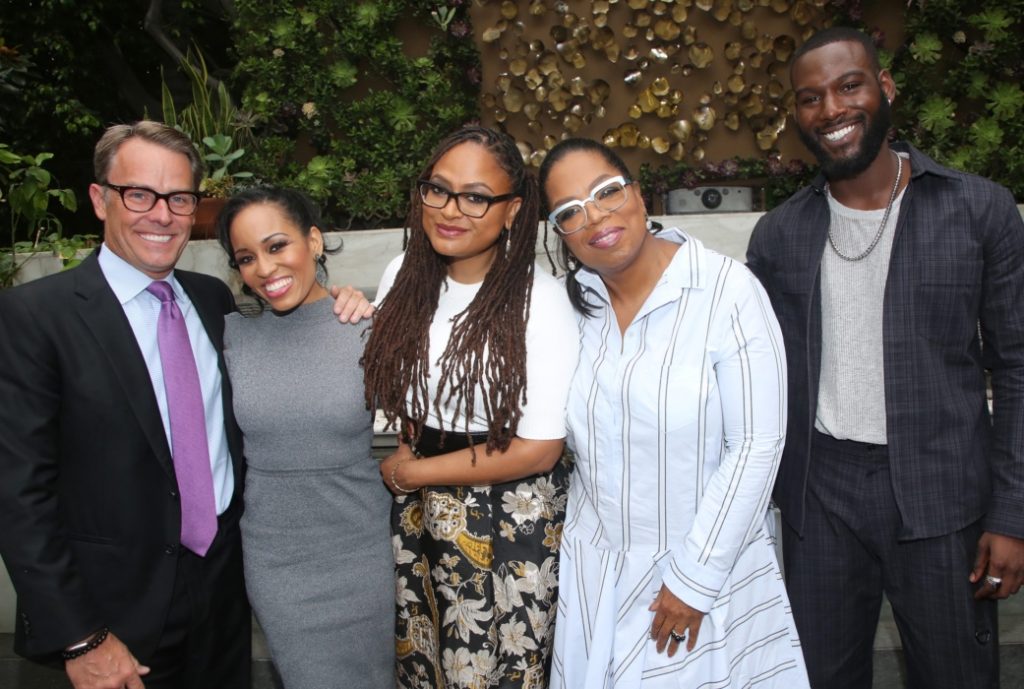 Pictured: Erik Logan, President of OWN, Dawn-Lyen Gardner, Ava DuVernay, Oprah Winfrey and Kofi Siriboe. Courtesy of OWN/ Photographer: Mark Davis – SilverHub
Oscar® nominated director Ava DuVernay's highly anticipated two-part premiere of the acclaimed original drama series "Queen Sugar" airs June 20 & 21 on OWN.
At a press conference held on Tuesday, June 6, at Four Seasons Beverly Hills, DuVernay, along with entertainment mogul Oprah Winfrey who both executive producers of the show, spoke to their feelings on "Queen Sugar," as being one of the rare examples of producing a show featuring a team of all women directors, with women telling women's stories, and how proud that they are of the fact that other shows are starting to step into the gap and have balance through the perspective of women.
 "If Game of Thrones can have three seasons of all male directors, why can't we have three seasons of all female directors?  You only do that because you can, and you want to.  You only say, you will not have women voices here because, the man's perspective is the center of the show. We are at a network owned by a woman so, it makes it easier." DuVernay says.
DuVernay is proud of the fact that "Queen Sugar" passed the Bechdel test, a test that is applied towards any film or television show where two women have a conversation in at least one scene that is not about a man. Over 93% of film and television shows in the United States, from the beginning of 2017 did not past the test.  Every episode of "Queen Sugar" has at least one scene that passes Bechdel.  And, in every film that she's done including "Selma" which was about a man (Martin Luther King, Jr.) has passed that test.
Adding to that, she says that it's crucial that more women start to get into the directing space. There's a huge demand in the industry for women who have experience in directing only one  film.
Filmed on location in New Orleans, in season two viewers can expect to see the contemporary drama heat up with the Bordelon siblings, Ralph Angel ( Kofi Siriboe), who we watched last season transform from a formerly incarcerated single father to landowner. The newly divorced Charley (Dawn-Lyen Gardner), the savvy business women who returned to Louisiana to help run the family business and Nova (Rutina Wesley) the journalist and activist who struggles to find love.
Favorite couple Aunt Vi (Tina Lifford), the vibrant and sexy, sixty something year old and Hollywood (Omar Dorsey), Vi's much younger boyfriend, who's dedicated to the Bordelon's and to Vi, except for his unresolved issues with his wife. But, Vi's not having any apart of it.
DuVernay and Winfrey, want audiences to share in a vision that the Bordelon legacy is one that explores race, culture and love wrapped up in contemporary cultural context. Both women agree that the actors bring an energy and the kind of spirit to the character that is relatable.
"One of my great gifts is that I am smart enough to surround myself with people who are smarter than I am. So I trust her, I believe in her. I believe in her vision," said Winfrey of DuVernay.
"Queen Sugar" is executive produced by: Ava DuVernay, Oprah Winfrey and Monica Macer.  Season two directors:  Kat Candler ("Being Mary Jane"), DeMane Davis ("Lift"), Cheryl Dunye ("The Watermelon Woman"), Aurora Guerrero ( "Mosquito y Mari"), Amanda Marsalis ("Echo Park") and Julie Dash ("Daughters of the Dust"). The series features music by nine time Grammy® nominated singer songwriter Meshell Ndegeocello.
"Queen Sugar" season two premiere airs on Tuesday, June 20 & Wednesday June 22 at 10 P.M. ET/PT on OWN.