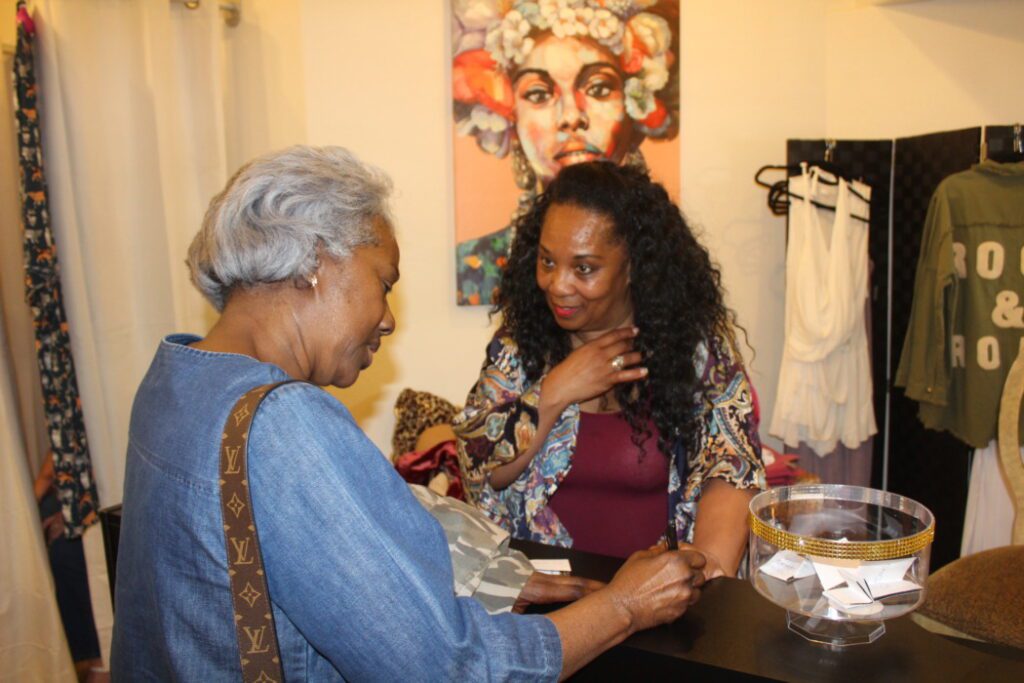 Oooh girl, where did you get your outfit?
If you're constantly getting compliments from admirers praising your style, first and foremost embrace it. Next, if you have that entrepreneurial spirit you just might be on to something.
Artillia Marcellous, owner/designer of Razmatazz Boutique in La Jolla, has always had a love for fashion for as far back as she can remember. As a child, she recalls creating fashion on her grandmother's Singer sewing machine, with hopes of one day making it a career. But her parents had something more "stable" in mind for their daughter. They just couldn't grasp the idea of making any kind of money nor being able to support oneself in retail or fashion. Even with a husband or partner.
Not wanting to disappoint her parents, Artellia decided on going to business college and was primed to become a court reporter.
"It just wasn't my thing," She says.
From there, she decided to take a look at different career options. She went on to work in Cardiology for twenty years, working her way up to eventually starting a consulting business, AM Medical Billing Service, where she trained staff at different cardiologist practices. As she would visit different offices, women would admire her clothing and accessories and ask, "Where did you get this? Where did you get that? Furthermore, they would ask, can you bring me one like that?
She would do just what they'd ask. Bring in different pieces of clothing to showcase. Until one day, in walks the CEO. "You can't do that here! But, I'll tell you what, I'll leave the conference room open for you one Friday, and you can host a party. After that, I don't want to hear anything else about it," he says.
Agreeing to his offer, and on that particular Friday, Marcellous, made $1500.00 in less than thirty minutes! That's when she knew that she was on to something. Retail fashion felt natural to her.
So, she quit her job and began to focus on fashion full-time. She started out small only investing $200.00 into her business. The key to her success she says is to continue to invest in the business.
Marcellous, started out selling apparel in Orange County. Now six stores later, she currently operates out of her store located in the beautiful coastal city of La Jolla, which she opened during the pandemic in November of 2021.
When asked as a Black-Owned Female-Owned business why La Jolla? Her answer is this:
"Do you want me to lie or tell you the truth. I know nothing about La Jolla. I was in La Jolla getting gas and I stopped into the grocery store on Fay to use the ladies room and looked across the street and said, now that's a nice spot! It was available and that's how I got my store in La Jolla. I call it divine connection. I'm here for a reason and have yet to figure out why."
In addition to working out of her boutique, Marcellous can be found around San Diego County at local Farmer's Markets in the Gaslamp District, Carlsbad and Oceanside. She shared, "I love my markets. I love people, it's excitement and it's tourism."
Customers from British Columbia, who follow her on social media was on a cruise ship tour from Italy, and stopped over to San Diego, hopped on a ride share, specifically to head over to Razmatazz to purchase dresses that they say are popular in Italy.
To celebrate the new space, Razmatazz Boutique hosted a sip and shop in partnership with Ninom Kimonos. The event was held on Friday, April 29. The festivities started at 3 pm and ended at 6 pm. It was a great opportunity for ladies to network and enjoy each others company while sipping on champagne, raffle prizes and, oh yes shop!
Razmatazz is a Women-Owned, Black-owned business located at 7556 Fay, Suite C, in La Jolla, CA.
You can follow on Instagram and Razmatazzboutique and on Facebook at Razmata'zz Boutique.
---