(LOS ANGELES) — Blessed and beautiful! Brandi Maxiell may be known for her dueling arguments as a reality star on VH1's "Basketball Wives LA," but she's battled a much tougher opponent and won – that is, ovarian cancer. Today, she's a wife. A mother. A cancer survivor. She wears the color of teal for ovarian cancer.
September is National Ovarian Cancer Awareness Month, and Maxiell is raising her voice and sharing her story to bring attention about the deadly disease. In 2007, Brandi Maxiell was planning her wedding to NBA player Jason Maxiell when she was stricken with ovarian cancer in the prime of her life. She was only 24. Thankfully, after months of surgery and treatment, her cancer is now in remission.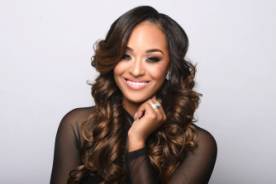 "I'm an ovarian cancer survivor! I'm sharing my story because I want women to listen to their body. You live with it. You sleep with it. If you know there's something wrong with you, listen to that inner voice and seek help," says Maxiell. "Ovarian cancer is called the 'silent killer,' but it doesn't have to be. I'm alive today because I didn't ignore the symptoms, and what my body was saying to me," she adds.
With no family history of ovarian cancer, the Dallas native had all the classic symptoms – that is, back pain, bloating, weight gain, abdominal pain, feeling full quickly after eating a couple of bites of food as well as the need to urinate urgently or often. It's nicknamed "the silent killer, because there's no test for it, and a Pap test cannot detect the disease. For that reason, most cases are diagnosed in later stages when the prognosis is poor. It ranks fifth in cancer deaths among women and accounts for more deaths than any other cancer of the female reproductive system.
Maxiell has teamed up with the National Ovarian Cancer Coalition (NOCC) to spread the word and educate the public about ovarian cancer and the color teal – the designated color for the cause. In the coming weeks, she'll be sharing her story at various events around the country. NOCC is a 501(c) 3 organization with more than 20 chapter offices nationwide, working hard to promote research, raise awareness, provide education, and improve the quality of life for ovarian cancer survivors. For more information, visit www.ovarian.org and whyteal.org,
#WhyTeal
For Ovarian Cancer Awareness Month, Maxiell talks candidly with NOCC about wrestling with cancer, losing her hair and as the Jill Scott song goes: "living her life like it's golden." For Brandi's conversation, visit http://www.whyteal.org/cancer-pink-conversation-reality-star-brandi-maxiell/
For more about Maxiell, visit www.BrandiMaxiell.com. Follow her on Twitter and Instagram at @BrandiMaxiell