Recently, The Chocolate Voice attended a press event at OWN studio's for a sneak peak at the networks reality television show "Welcome to Sweetie Pie's." The show features Miss Robbie Montgomery and her son Tim Norman, owners of the national acclaimed soul food restaurants.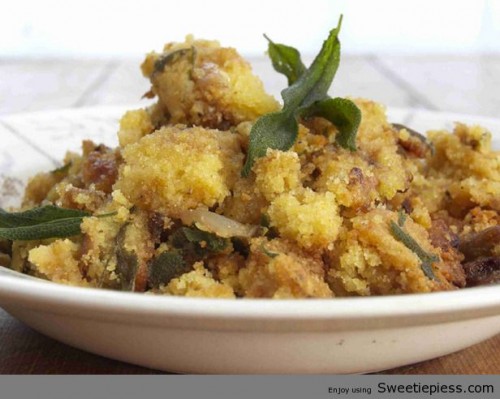 The event was catered by non other than "Sweetie Pies."  Miss Robbie, and the cast/staff we're on hand to serve up a scrumptious menu.  Now, Miss Robbie has released a book, Sweetie Pie's Cook Book, which she shares some of her favorite recipes, just in time for the holidays.
For starters, check out Miss Robbie's Cornbread Dressing.  For more of Miss Robbie's delicious recipes be sure to purchase a copy of Sweetie Pie's Cookbook.
Ingredients:
Corn bread crumbled (see instructions to prepare corn bread below or use box and follow instructions listed on the box cornbread)
1 12-oz bag if cornbread stuffing mix
4 slices of of stale bread torn into pieces
4 cups of chicken or vegetable stock
1 can of cream of celery soup
1/2 cup (1 stick) butter
1/2 cup (1 stalk) finely minced chopped celery
1 small onion finely minced.
1 green bell pepper, cored, seeded, and finely minced
3 Large eggs, beaten
1 tablespoon dried parsley flakes
1 tablespoon poultry seasoning
2 tablespoons onion soup
2 cups turkey stock
2 tablespoons dried sage
Salt and pepper to taste
1/4 teaspoon of baking power
Directions:
Preheat oven to 350 F (175 C).
Dice onions, pepper and celery. Add crumbled bread and cornbread, sage, poultry seasoning, celery seeds, cream celery soup, butter, pepper, seasoning salt and chicken broth to the diced onions, pepper and celery in a large bowl and mix together. Add in 3 eggs to mixture. Use ½ stick of margarine to grease 9 inch baking pan.
Pour dressing mixture into pan. Bake at 325 degrees Fahrenheit until brown.
Serve with cranberry sauce.
A few weeks ago we share a collard greens recipe, in which TCV staffers all agree that greens and corn bread to hand in hand.
Corn Bread (from scratch)
2  cups of buttermilk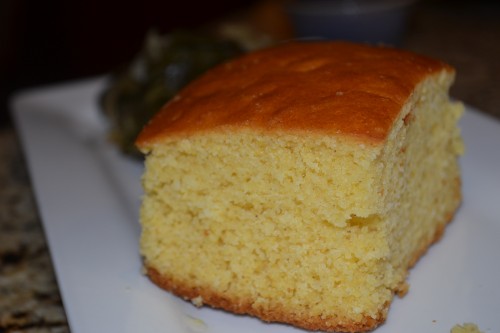 2 eggs
1 tsp baking soda
2 cups yellow cornmeal
2 tsp salt
1 tsp melted butter
1 drop of vanilla extract
Mix together the buttermilk, eggs and baking soda.  Mix in cornmeal, sugar, melted butter and vanilla.  Pour into a battered baking pan.  Bake at 450 degrees for about 20 minutes.  Cut in squares and serve piping hot with butter.