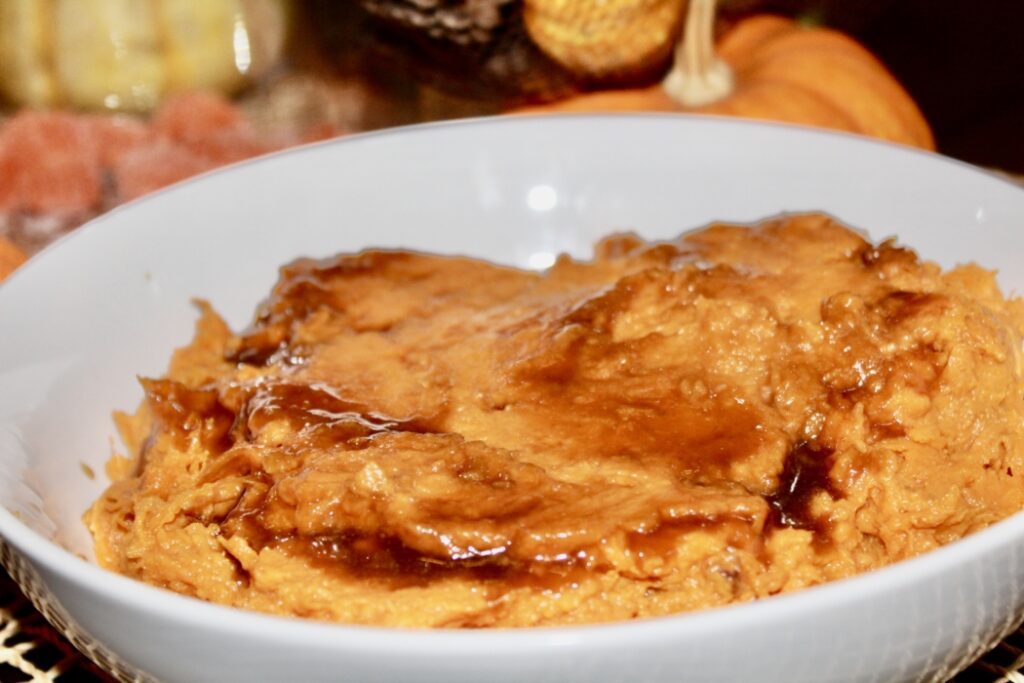 If you're looking for a new easy sweet potato recipe to try—we got you covered. You will absolutely love this candied bourbon whipped sweet potatoes, courtesy of the book Cornbread & Collard Greens: How West African Cuisine & Slavery Influenced Soul Food by Deah Berry Mitchell. After trying it out over the summer, this insanely delicious twist on sweet potatoes is our favorite, and it's super easy to make.
Ingredients:
6 Large sweet potatoes, peeled and cut into medium sized chunks
1/3 cup of unsalted butter
1/2 cup of half and half milk, or heavy cream
2 Cups of brown sugar
1 tablespoon of orange juice
1 tablespoon of orange zest
2 tablespoons of bourbon (use vanilla or another flavor if your prefer no alcohol
1/4 Teaspoon of salt
Boil the sweet potatoes until tender: Place the sweet potato chunks in a large (5 quart) pot, cover with water. Add a tablespoon of salt to the water. Bring to a boil. Cook until tender, about 15 to 20 minutes.
While potatoes are cooking, begin candied bourbon sauce. In a separate pot over medium-low heat, add the following—butter, cream, sugar, orange, and zest. Heat until mixture is thoroughly combined. It should be bubbly and have a velvety smooth texture similar to caramel. Add bourbon to finish and remove from heat. Transfer into serving dish and cover to keep warm until potatoes are ready to serve.
When the potatoes are finished cooking, drain them and add them back to the pot. mash them with a fork or potato masher. (The author recommend using a potato ricer to give potatoes a light and creamy texture.)
After the potatoes are mashed, use a whisk or electric hand mixer to whip them
Once whipped, add in 1/3 cup of the reserved candied-bourbon sauce. Whip the potatoes again until everything is combined. Taste the potatoes and add the salt, seasoning more or less, if desired.
Serve whipped potatoes immediately with remaining sauce.  Add optional suggested toppings— Chopped bacon, cooked sage leaves, brown butter, prosciutto cooked and chopped.