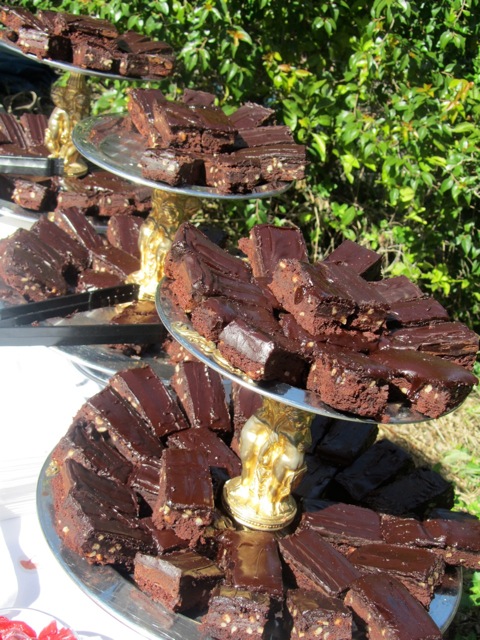 Note: This recipe uses two dessert favorites in combination to make something fantastic. Cheesecake is marbled into brownies to create this dinner spoiler. It's sure to be requested by friends and family so make sure you save this recipe.
Ingredients:
1 (8 ounce) package cream cheese, softened
1/4 cup white sugar
1 egg
1 cup semisweet chocolate chips
1/4 cup butter
1 cup semisweet chocolate chips
1/2 cup white sugar
2 eggs
2/3 cup all-purpose flour
1/2 teaspoon baking powder
1/4 teaspoon salt
Directions:
1. Preheat oven to 350 degrees F (175 degrees C). Grease a 9 inch square baking pan.
2. Combine cream cheese with 1/4 cup sugar and 1 egg in a mixing bowl; beat until smooth. Stir 1 cup chocolate chips into the cream cheese mixture. Set aside.
3. Fill a saucepan with water and bring to a boil. Turn the heat off, and set a heatproof mixing bowl over the water. In the mixing bowl, combine butter with the remaining cup of chocolate chips; stir until just melted and blended together. Stir in the remaining 1/2 cup sugar and 2 eggs, then sift together flour, baking powder, and salt; stir into chocolate until evenly blended.
4. Pour half of the batter into the prepared baking pan. Spread the cream cheese mixture over the chocolate layer. Top with remaining chocolate mixture (this doesn't need to completely cover the cream cheese layer). Using a knife, swirl the top chocolate layer into the cream cheese to make a marble pattern.
5. Bake in preheated oven at 350 degrees F (175 degrees C) for 25 to 30 minutes, or until top is crinkled and edges pull away from sides of the pan. Cool thoroughly. Cut into 12 to 16 squares.
6. Store in the refrigerator or freeze.
Source: http://allrecipes.com/recipe/chunky-cheesecake-brownies/?prop24=hn_slide1_Chunky-Cheesecake-Brownies&evt19=1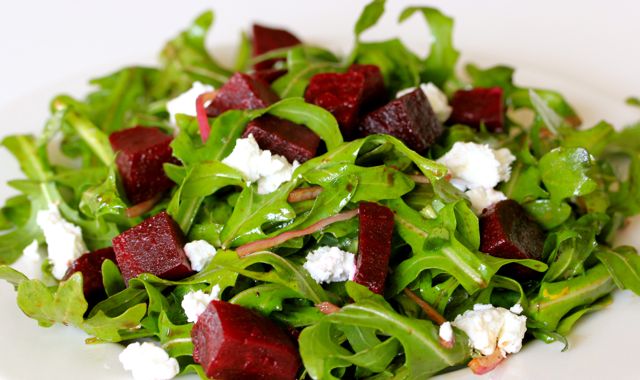 Note: Next time you have a salad before dinner try this arugula salad. The beets and goat cheese balances out the bitterness of the lettuce. I would try adding hard boiled egg slices for lunch.
Ingredients:
1/4 cup balsamic vinegar
3 tablespoons shallots, thinly sliced
1 tablespoon honey
1/3 cup extra-virgin olive oil
Salt and freshly ground black pepper
6 medium beets, cooked and quartered
6 cups fresh arugula
1/2 cup walnuts, toasted, coarsely chopped
1/4 cup dried cranberries or dried cherries
1/2 avocado, peeled, pitted, and cubed
3 ounces soft fresh goat cheese, coarsely crumbled
Directions:
1. Line a baking sheet with foil. Preheat the oven to 450 degrees F.
2. Whisk the vinegar, shallots, and honey in a medium bowl to blend. Gradually whisk in the oil. Season the vinaigrette, to taste, with salt and pepper. Toss the beets in a small bowl with enough dressing to coat. Place the beets on the prepared baking sheet and roast until the beets are slightly caramelized, stirring occasionally, about 12 minutes. Set aside and cool.
3. Toss the arugula, walnuts, and cranberries in a large bowl with enough vinaigrette to coat. Season the salad, to taste, with salt and pepper. Mound the salad atop 4 plates. Arrange the beets around the salad. Sprinkle with the avocado and goat cheese, and serve.
Source: http://www.foodnetwork.com/recipes/giada-de-laurentiis/beet-and-goat-cheese-arugula-salad-recipe.html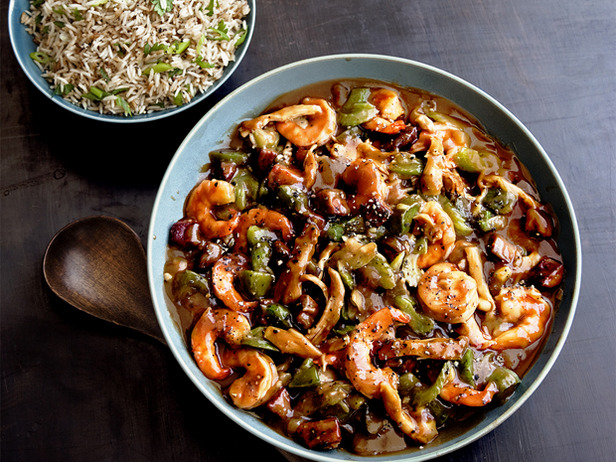 Note: Gumbo is great, but I'm not a big fan of okra. Etouffee  is one of my favorites because of the bold spicy flavors. Have a bowl by itself or over rice. Happy Mardi Gras!
Ingredients:
2 tablespoons vegetable oil
1 pound andouille sausage, diced
3 pounds skin-on, bone-in chicken thighs
Kosher salt
1/2 cup plus 2 tablespoons all-purpose flour
4 stalks celery, diced
1 large onion, diced
1 green bell pepper, chopped
4 cloves garlic, minced
1/4 teaspoon cayenne pepper
4 cups low-sodium chicken broth
1 pound medium shrimp, peeled and deveined
2 tablespoons dry sherry
Freshly ground black pepper
Directions:
1. Heat a large pot over medium-high heat. Add the vegetable oil and andouille and cook, stirring, until crisp, 4 to 5 minutes. Transfer to a plate. Season the chicken with salt, then add to the pot in batches to brown, 5 minutes per side. Transfer to the plate with the andouille.
2. Make the roux: Remove the pot from the heat and cool slightly (there should be about 1/4 cup drippings; drain or add oil as needed). Return the pot to medium heat. Sprinkle in the flour and stir, scraping up the browned bits from the pan with a wooden spoon. Continue to cook, stirring, until the mixture smells nutty and turns a deep brown, 10 to 12 minutes. Add the celery, onion, bell pepper, garlic, cayenne, and salt to taste. Cook, stirring, until the vegetables are tender, 6 to 8 minutes.
3. Whisk in the broth. Return the chicken and andouille to the pot and simmer until the chicken is cooked through, about 25 minutes. Transfer the chicken to a plate and let cool slightly while the stew simmers; remove the skin and shred the meat. Return the meat to the pot. Stir in the shrimp and sherry and cook until the shrimp turn pink, 2 to 3 more minutes. Season with salt and black pepper.
Source: http://www.foodnetwork.com/recipes/food-network-kitchens/shrimp-and-chicken-etouffee-recipe.html
Recipes contributed by Charles DeJesus, formerly a culinary specialist in the United States Navy.  Charles is currently a student at Southwestern College.